On August 19, I'll be celebrating the kickoff of my first "Get The Bunk Out" tour by performing the show at Fogartyville Community Media and Arts Center in Sarasota, Florida. The performance is based on the writings of Will Rogers (adjusted for inflation), infused with a few of my original songs and poetry. The tour will include visits to nearly a dozen memorials to Will Rogers across the country, culminating in a visit to the Will Rogers Memorial Museum at his birthplace in Claremore, Oklahoma on his birthday, November 4. 
Please let me know if you would like to host me for a night or meet up to answer some questions for the documentary.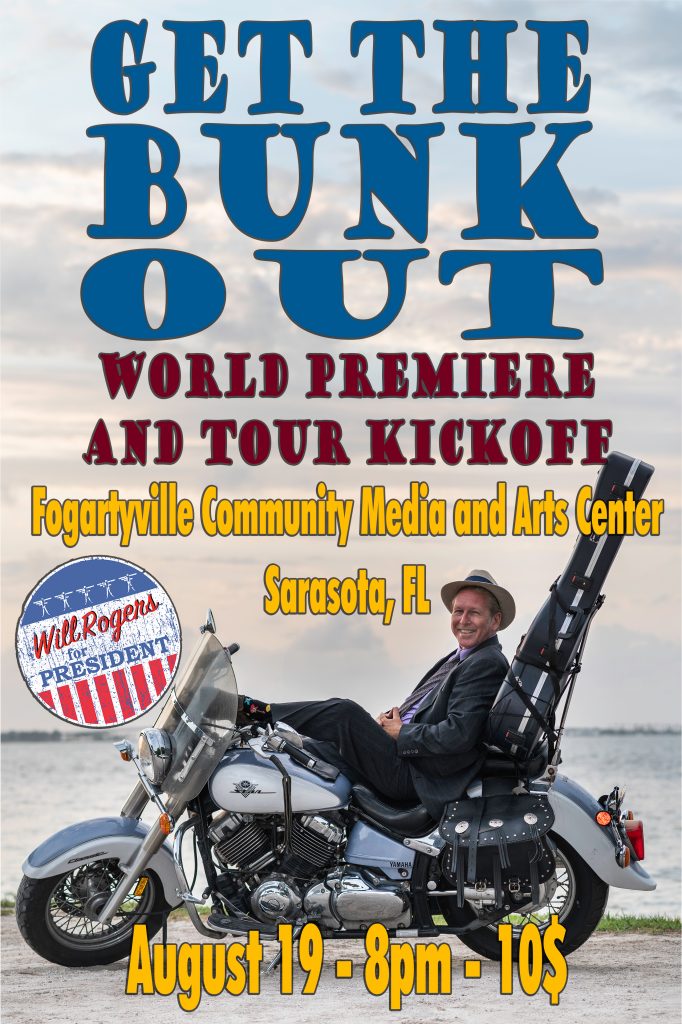 August 26 – Gainesville, Florida
August 28 – Savannah, Georgia
August 30 – Charleston, South Carolina
September 2 – Raleigh, North Carolina
September 4 – Washington DC
September 7 – Stuart's Draft, Virginia
September 10 – Cincinnati, Ohio
September 13 – Bloomington, Indiana
September 14 – Charleston, Illinois
September 15 – St. Louis, Missouri
September 17 – Columbia, Missouri
September 19 – Kansas City, Missouri
September 21 – Wichita, Kansas
September 23 – Dodge City, Kansas
September 24 – Colorado Springs, Colorado
September 26 – Denver Colorado
September 28 – Boulder Colorado
September 30 – Dinosaur National Monument, Utah
October 1 – Salt Lake City, Nevada
October 2 – Eureka, Nevada
October 3 – Reno, Nevada
October 4 – Guerneville, California
October 5 – San Fransisco
October 6 – Felton, California
October 7 – San Luis Obispo, California
October 8 – Los Angeles, California
October 12 – Joshua Tree National Park, California
October 13 – Tucson, Arizona
October 16 – Phoenix, Arizona
October 21 – Roswell, New Mexico
October 23 – Austin, Texas
October 31 – Fort Worth, Texas
November 2 – Claremore, Oklahoma
November 5 – Little Rock, Arkansas
November 6 – Jackson, Mississippi
November 7 – Pensacola, Florida
November 8 – Tallahassee, Florida
November 9 – Sarasota, Florida
My itinerary includes around 40 stops. First, I'll ride to Gainesville, Florida to spend the weekend with my former housemate who is getting her Masters at UF to help protect the inner corridor of Florida for wildlife. Then, I ride to Savannah, Georgia to see an old friend who used to live in Sarasota and relish the beauty of one of my favorite cities. I've got a couple of people I've met on Couchsurfing.com who I hope to stay with, or at least meet up with, while I'm in the Charleston, South Carolina area as I've never been there and look forward to experiencing it. 
My plan for Washington DC is basically to visit the statue of Will Rogers in the Capitol building. Beyond that, my hope is to find some people to talk to about Ranked Choice Voting and other ways we can create a political system not based on manufactured conflict. Then, I'll be spending some time with family in Stuart's Draft, Virginia before moving on to my second Charleston in West Virginia. I'm going to meet up with some more new friends in Cincinnati, Ohio, experience the wonder of Bloomington, Indiana, and visit the Will Rogers Theatre in Charleston, Illinois (third Charleston's a charm!).
I'm going to visit my nephew in St. Louis, Missouri before moving on to Kansas City, Wichita, and Dodge City in Kansas. In Colorado, I'll be visiting the Will Rogers Shrine of the Sun in Colorado Springs, a musician friend in Denver, and another former housemate who lives in a new co-op in Boulder. I hope to revisit Breckenridge, where I lived, worked, and snowboarded through the winter of 2002, and I thought it would be cool to visit Dinosaur National Monument in Utah. I have no idea how I'm going to make it across Nevada, but I plan to visit an actor friend in Reno, where I bought my first motorcycle twenty years ago.
I'll be retracing my path on that trip, going to Guerneville, California, where I lived in a tent for two months and worked crush season in wine country, and then down the coast to San Francisco to visit the only friend to come visit me when I was crushing grapes. Then, I'm going down to Felton and Santa Cruz to meet the friend who sent me the motorcycle jacket I'll be wearing on the trip after her wife let me borrow it twenty years ago before passing on after I returned the jacket.
I hope to ride as much of the Pacific Coast Highway as possible to make it down to Los Angeles. Although I lived there for nearly a year and a half, I had no idea who Will Rogers was and never visited any of his memorials. So in addition to meeting with a few friends that I haven't seen in quite awhile, I'll be going to the Will Rogers State Park, Will Rogers State Beach, Will Rogers Park in Beverly Hills, both of his stars on the Hollywood Walk of Fame, and the last theatre he performed at in Pasadena before he died.
Then, I'll take the Will Rogers Highway back east, with stops for performances of "Get The Bunk Out" in comedy clubs in Marana and Vail, Arizona and for a Ranked Choice Voting group in Phoenix. I'll be staying with a fellow motorcyclist in Roswell, New Mexico, and spending about a week at the apartment of another friend I met on Couchsurfing.com who has stayed with me a few times and will be in Miami the last few weeks of October. I've heard a lot of good things about Austin, and I've often said it was the only reason I ever wanted to return to Texas after hitchhiking through the last time, but I'll also be visiting the Will Rogers Auditorium in Fort Worth.
November 4 will be Will's birthday so I'll be spending that week connecting with people at the Will Rogers Film Festival and the celebrations at the Will Rogers Memorial Museum in Claremore, Oklahoma. Then I hope to visit some college friends and taste some of the beer they make at Flyway Brewery in Little Rock, Arkansas. I may stop in Pensacola and Tallahassee (since it is the state capitol), but I'm hoping to get back in time to vote on November 8.
My intention is to shoot as much video of the journey as I can and edit it into a watchable documentary when I return in the Fall. I have a camera that attaches to my helmet and motorcycle, and I have a new phone with a good camera and plenty of storage. As I meet people along the way who want to engage, I'll be asking them about Will Rogers, but also asking them about how America can grow to like one another again.
I plan to load raw footage to my Steve McAlphabet YouTube channel and blog about the journey on my website, but social media will probably be intermittent. I'll share as much as I am able through Patreon. I hope you share in the journey however you can.
The kickoff event features a performance of "Get The Bunk Out" at Fogartyville Community Media and Arts Center in Sarasota, Florida on August 19 at 8pm. Get your tickets now!