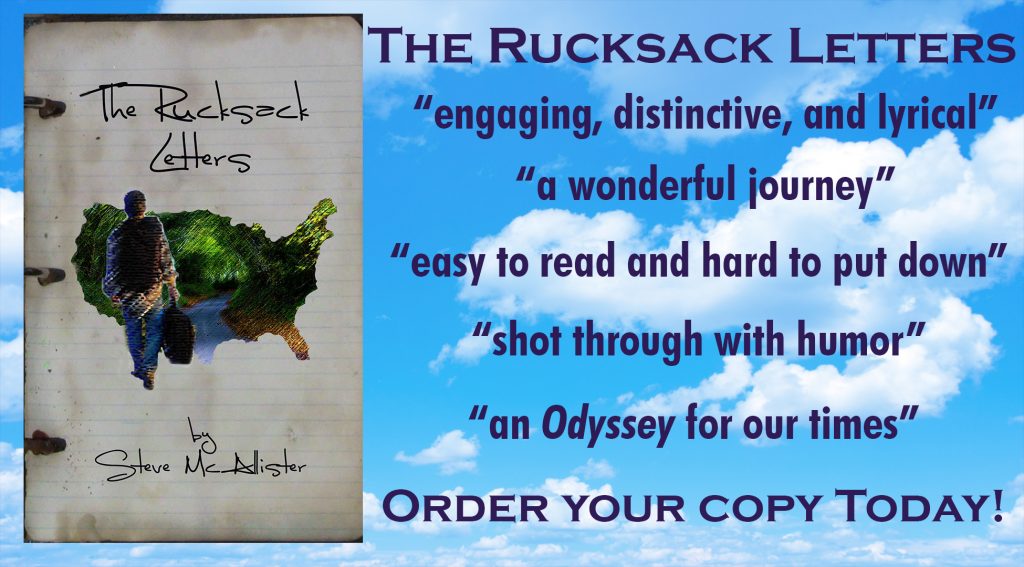 The Rucksack Letters is the account of one man's journey toward self discovery, filled with colorful characters, blazing humor, and somber soul-searching through the vivid tapestry of America's underbelly. At a time when the world is seeking a new path, Steve McAllister offers a touching, comedic, and insightful travelogue through a world gone mad. Based loosely on Jack Kerouac's "Rucksack Revolution" mentioned in The Dharma Bums, The Rucksack Letters is an inspiring tale and charged call for a more sustainable, creative, and collaborative world.
Here is what people have been saying about The Rucksack Letters:
"The Rucksack Letters is The Odyssey for the new millennium. Steve McAllister's tale of his physical and spiritual journey across the country is stuffed with characters that run the gamut from the interesting to the absurd and with spiritual wisdoms for the everyday. His mental meanderings may help readers find the courage to ask themselves the tough metaphysical questions everyone was afraid to ask of the conventional church." – Felicia R., Sarasota, FL
"I have thoroughly enjoyed my poetic journey with Steve. He's not just a writer; he's an artist with words. He did not just sightsee in his travels, he had vision." – Traci T., Flint, MI
"Imagine a modern day Kerouac high on love for his fellow man, guitar tucked under his arm, out to find himself in this big bad country of ours and you'll have a taste of Steve McAllister's adventures. As a wise man once wrote in song – 'He's a poet, he's a picker and a problem when he's stoned. He's a walking contradiction. Partly truth and partly fiction, taking every wrong direction on his lonely way back home.' Enjoy the ride." – Karen L., Breckenridge, CO
"I am always anxiously awaiting the next episode in The Rucksack Letters. Steve's escapades make my relatively unique life a somewhat droll and humdrum existence! I would unreservedly recommend it as reading for anyone interested in any of the following: travel, adventure, survival on the road, "life in these United States", unforgettable characters, philosophy, religion, politics, and the ramblings of a remarkably sane and well-ordered mind. Not bad for someone passed over as an "ADD/ADHD" kid in and through our educational system." – Dharma K., Cripple Creek, CO
"The Rucksack Letters are experiences worth reading. The journey is pure bravery or sheer stupidity, depending on your perspective." – Laurie A., Fort Wayne, IN
"Just knowing the author is an adventure in and of itself but once the stories start flowing, hang on to your hat! His genuinely insightful and fun commentaries on life, religion and the nature of we fellow human beings is riveting, witty and worth every savored moment of reading." – V K, Aptos, CA
"Terrifying…outspoken…angry… opinionated… challenging…but very insightful" – The Author's Mother, Sarasota, FL
"The writing is engaging, distinctive, and lyrical at times. The author skillfully weaves his inner experiences with his outer experiences, observing connections and meanings he faithfully records. Throughout the narrative I hoped he would follow through with the resolution and the embarkment upon a new phase of his life, and I wasn't disappointed." -Marie L.
"Steve McAllister has brought back the 'good ol days' with a poignant look at society and true human nature." – Jay B.
"The Rucksack Letters transcends politics, religion, culture, class and sexuality without forgetting any of it. I finished the book with a little highway dust on me, feeling a little lighter in my step." – Dani H.
"This book opened my eyes to many things within myself and the world around me. Steve McAllister is living proof that anyone can have an amazing life, and that you do not need to be rich or powerful to accomplish great things. As a person who has spent the better part of my life struggling with my belifes and with Christianity especially, I found this book to be most helpful and informative on religion without being overbearing." – S. Lidvall
"This is the kind of book you recommend to friends and family. It communicates lessons about life, spirituality and humanity in a light-hearted way. The author is a seeker, and he records the truth of what he encounters, about himself and the people he meets. But the book is never preachy or judgmental. It's shot through with humor, and it's just a really enjoyable read. – Bob L.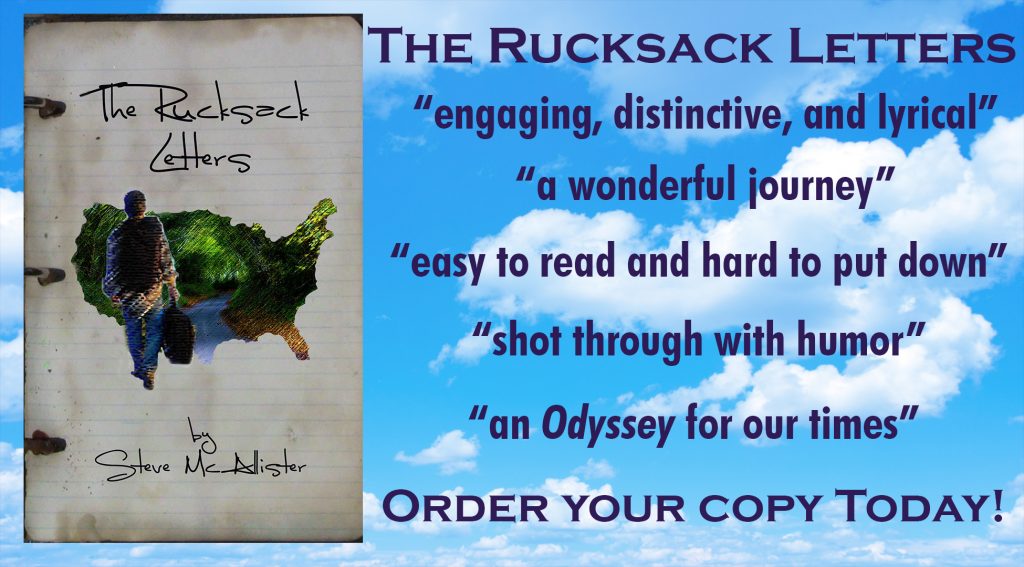 Also available at Smashwords and on Kindle.