Steve McAllister's songs touch upon a number of aspects of the human experience. His songs are driven by a sense of humor, curiosity, and understanding. His videos bring his songs into another dimension of harmony.
Dear Mona Lisa – What would you ask the most valuable painting in the world about the life she's seen change in the last five hundred years?
Song For The People – This song came at the beginning of the Coronavirus pandemic and became the song of the month for March.
The People That Made Me– This started as an ode to my friends and lovers, and there were even verses with their names in them. But ultimately, I knew that the song wanted a more universal appeal so that anyone could sing it.
Mystery – This is the I wrote that I actually remember. Matt Corbin and I were in Wasilla, Alaska. He started playing the music, and I started writing the words. I wrote a couple others that summer, but I don't remember them.
On The Road – After hitchhiking to Colorado on The Rucksack Letters journey, I wrote this on a guitar my girlfriend let me borrow.
The Game– It gets cold on the back of a motorcycle, and after I bought one in Reno, Nevada and crossed Donner Pass into California, I started singing to keep warm. Eventually, I started making up my own songs, starting with this one.
Are You Searching Too – As cynical and cold-hearted as I may sometimes appear, I am still a bit of a romantic.
If Only– This was written in a tent in California and was the first song ever to be produced with time dollars as a currency… at least, to my knowledge. This version also features the incredible fiddling of Sara Stovall from Passerine.
The Prodigal's Lament– My mom has often called me "the prodigal son" and it's probably not a bad description.
San Andrea's Fault – As romantic as I may think I am, I can still be a real asshole sometimes.
Fly Home – I wrote this for a girl I met in a homeless shelter in Eugene, Oregon.
Steve– The movie The Tao of Steve claims that "Steve" is the coolest name ever. I do not disagree.
Long Crawl– In Los Angeles. I was the closest I could possibly be to what I'd always wanted to do, but what I really wanted seemed very far away.
I'll Try– This is my ode to living with a neurological disorder in an already disordered society.
Forgive Me– I think Christianity would be a much better religion if they dropped the dogma and just taught people to forgive.
Lost As Me – The fact that so many of our heroes let us down does as least make humanity a little more equal. We're all equally fallible.
Lookin' At Me – The girl I wrote this about said this is supposed to be called "Tracy's Song", but I haven't talked to her in years so I'll call it what I want.
Reveal It In Me – This is my prayer to whatever energy force thought it was a good idea to put all of these cells together and give me the experience of being Steve for awhile.
Why Did I Chase You Away? – Matt Corbin actually wrote this. I just helped a bit.
9/11/01 – Matt Corbin again.
Happy – I wrote this for my girlfriend at the time for her birthday. I think it was the only good thing I ever did for her on any of her birthdays.
Sweet Leaf Serenade – This is a breakup/love song for tobacco. She's a horrible mistress, but I do love her.
Captain Facebook – I wrote this for the internet trolls out there who just like to criticize people and stir up trouble.
Breathe – When I started writing this song, I asked my housemate, Alex, to be a good muse and tell me what it should be about. She said about how she "can't stop coughing because of the red tide that's made worse by greedy corporations and the assholes that run them"… or something like that.
Venery – This started as a poem, an ode to the diversity of the animal kingdom. But it makes a really fun song as well.
The Beginning of the End – I wrote this on a Sunday morning while pondering the apocalypse.
Every Little Thing – After writing "The Beginning of the End" in the morning, I was wired to write another song. I asked my friend, Ece, to be a good muse and tell me what it should be about. She said, "maybe write a song about people helping people or strangers helping each other. Changing the world with tiny acts of kindness."
Feel – Ece was going to come play music with me, but couldn't because she felt drained. I told her I would write her a song and asked what kind of song she wanted. She said "sad and soothing."
Broken – I wrote the music for this on New Years Day, 2020. The idea to extend the notes in the choruses didn't come until almost a week later. This song made me decide to write a new song every month.
Keep It Simple, Stupid – This was my song for the month for February. It' s bit satirical, blending the idea of the "knowledge of good and evil" we started chewing on in the biblical account to the partisan politics that make America run so smoothly.
I Don't Know Yet – I told my muse that I was writing a song and I needed her help. She said, "What's it about?" I said, "I don't know yet." She said, "Well, that's the title then." So there you go.
Today – This my anthem for creating your life on a daily basis though the world rages on around you.
God Bless, America – If I couldn't laugh at America, it would probably make me cry.
Another World Is Out There – Inspired by the work of Joseph Campbell.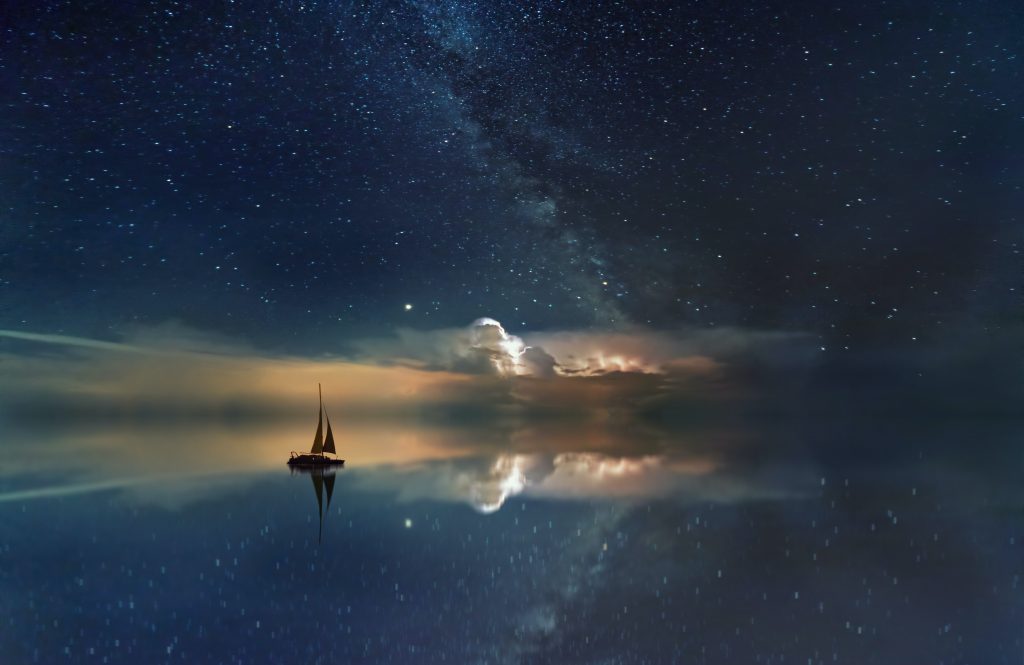 Find Steve McAllister on Spotify