"We do not need to have a picture of what a true world would be like in order to feel that there is something radically wrong with the world that exists."

― John Holloway, Change the World Without Taking Power: The Meaning of Revolution Today
Albert Einstein is often quoted as saying, "If I had an hour to solve a problem, I'd spend 55 minutes thinking about the problem and 5 minutes thinking about solutions." There is much wisdom in clarifying a problem before starting to work on the solution so let's at least start by looking at the problems of our current economic system before we look to change it.
We live in a time of record economic inequality and instability due to our adherence to a debt-based, industrial finance model. This model has been bolstered by the U.S. Supreme Court's Citizens United decision, which gives corporations the same rights as human beings. This has dramatically drawn political power from the true citizenry of the people and given it to financial institutions.
Our current economic model is based on the principle of rewarding avarice, separation, violence, and dishonesty instead of the virtues of cooperation, community, harmony, and trust that we truly seek.
The continued application of trickle down economics has served to enable a small minority of the population to garner political control, leaving the rest of the population feeling disenfranchised, divided, powerless, and in a constant state of dread over financial instability.
While a republic was sufficient for 1776, the oligarchy of 2022 is not what the founding fathers envisioned. We need to move toward a truer democracy and an even more perfect union.
Many of our forefathers feared competition among warring political factions. As they feared, these factions have turned the U.S. government into a wasteful cesspool of corruption and money laundering that is incapable of meeting the needs of the people.
Although the US dollar had been pegged as the global currency for thirty years, President Richard Nixon released the Federal Reserve Note from the gold standard in 1971. Money has not had comparable material value or accountability since, creating an economic system based on a global fiat currency with no intrinsic value.
In addition to the world's many nationally based fiat currencies, the development of crypto-currencies has initiated an economy replete with new possibilities for consumption; however, it has not offered a clear strategy on how to create an actual sustainable economy.
The economy of consumption is spurred on by short-term profiteering and deluded thinking that there could be endless fossil fuels and crude materials on a finite planet. The abuse of our nature has created extreme environmental negativities, such as deforestation, pollution, species extinction, climate change, and wastefulness.
Americans were once considered "citizens" who excelled in cultural developments and community. Now, as our identities have been transformed into "consumers", we are suffering from mental and physical diseases, record violence, and social dysfunction. The "land of the free" now has the highest incarceration rate of any country on the planet, per capita and as a total population.
The traditional economic systems of capitalism, communism, and socialism are still enmeshed in authoritarianism; hence, they are incapable of truly empowering people. We still lack a robust economy in which people are not subjugated to having their money taken from them before they even get it and forced to support endeavors that do not work in their best interests.
In the development of our mainstream economy, we have made a number of mistakes. We're human, so mistakes are just part of the learning process, but our humanity also affords us the ability to learn from our mistakes and grow from them rather than continuing to repeat them. So let's be honest about the system we've been encouraged to blindly protect and uphold, and open up to the possibility that, as with every other advancement humanity has achieved, something better is possible.
As Nobel prize-winning economist Joseph Stiglitz says in People, Power, and Profits: Progressive Capitalism for an Age of Discontent. "We thought unfettered markets were the solution to every economic problem; we thought finance and globalization and advances in technology would, on their own, bring prosperity to all. We thought that markets were, on their own, always competitive – and so we didn't understand the dangers of market power. We thought the blind pursuit of profits would lead to societal well-being. We got our politics wrong: too many thought that just having elections was all that democracy was about… we got our values wrong. We forgot that the economy is supposed to serve our citizens, not the other way around."
Unfortunately, finance has come to overtake all other industries as the key economic driver in America. Even though it only represents about 7% of our economy and creates only 4% of the jobs, according to Rana Foroohar in Makers and Takers: The Rise of Finance and the Fall of American Business, it takes about 25% of corporate profits.
Yet although the United States could brag about having three times the financial assets of the next three richest countries combined in 2015, it did nothing to improve economic growth for the majority of Americans, not even those who put in the labor upon which speculations were made and through which the game of finance was made possible. Instead, it has actually slowed things down for the average citizen since the economic energy they create is immediately absorbed into the accounts of those who discuss it over phone calls and golf games.
"Whatever the cause, the United States is privately rich but socially poor," says Jeffrey D. Sachs, The Price Of Civilization: Reawakening American Virtue And Prosperity. "It caters to the pursuit of wealth but pays scant attention to those left behind. And though American culture emphasizes individualism and the pursuit of individual wealth perhaps more than any other society, that focus does not lead to greater happiness."
As Nobel Prize-winning economist Angus Deaton and his colleague Daniel Kahneman discovered through their research at the Center for Health and Well-Being at Princeton University, money actually can buy happiness, but only to a certain point. According to the peer-reviewed study, having the ability to provide for all of your needs and feasibly achieve self actualization costs about 75,000$ a year. Money made beyond that point appears to become relatively superfluous and does not seem to increase enjoyment of day-to-day experiences. Our challenge is that we've somehow bought into the idea that accumulating as much as possible is the highest of virtues, and since we are somewhat forced, or at least subconsciously coerced, to exert more energy than necessary to reach goals we intrinsically know do not work in our own best interests, we have a number of emotional issues and some true struggles with achieving happiness.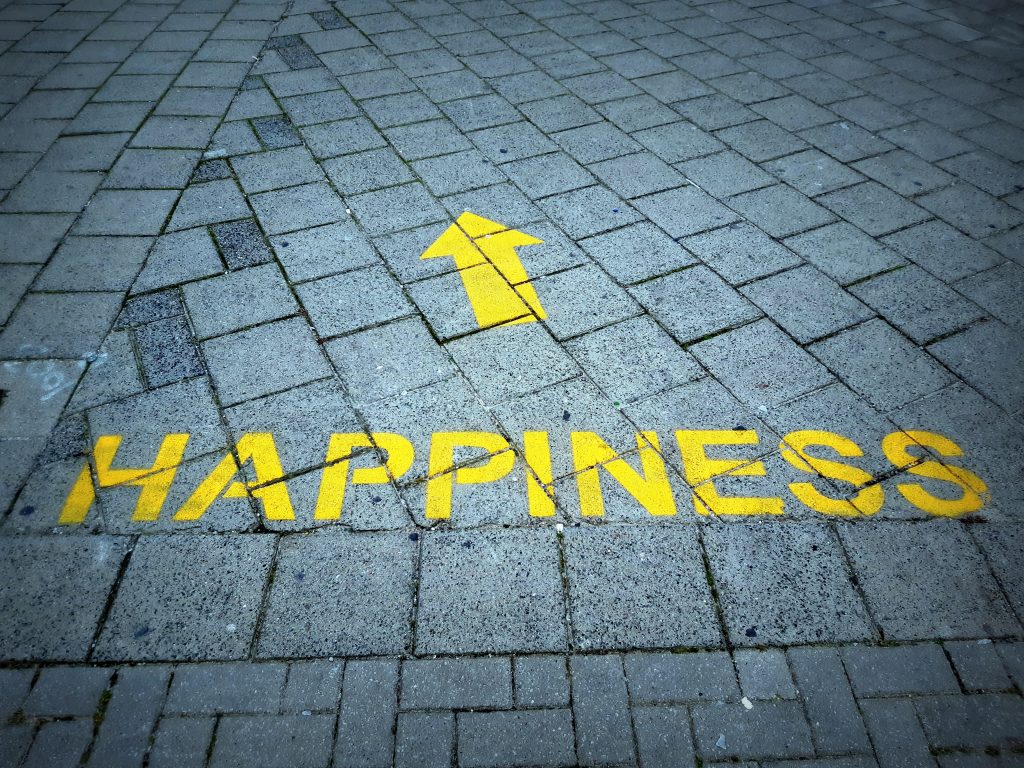 This is an excerpt from the book Steve McAlphabet Explains ABC Squared Economics. Go to https://stevemc.xyz/books/steve-mcalphabet-explains-abc-squared-economics/ to find out more.