This weekend, I had three opportunities to offer pay-what-you-want poetry to people passing by. On Friday night, I joined my friend Martha in Bradenton's Village of the Arts for their monthly Art Walk. I only had one woman ask me for a poem, but I think it was enough.
She asked for a poem about "change". I took my typewriter to the front porch of The Art House where the light was better and came up with this one.
CHANGE
In this world in which we live
we know of only one constant
about this singularity
we need not be despondent
for this participant in our moments
is nothing all that strange
the essence of our being
is nothing less than change
whether it's creation or destruction
as life grows or as it withers
change infuses everything
for life is but a river
as every moment passes
every moment differs
and when we follow its flow
through our lives we become drifters
and just as every inch of river's flow
is filled with different drops
every moment changes
with the ticking of our clocks
so the question we must ask ourselves
as from our dreams we wake
with each new moment that comes to us
what kind of change will we make?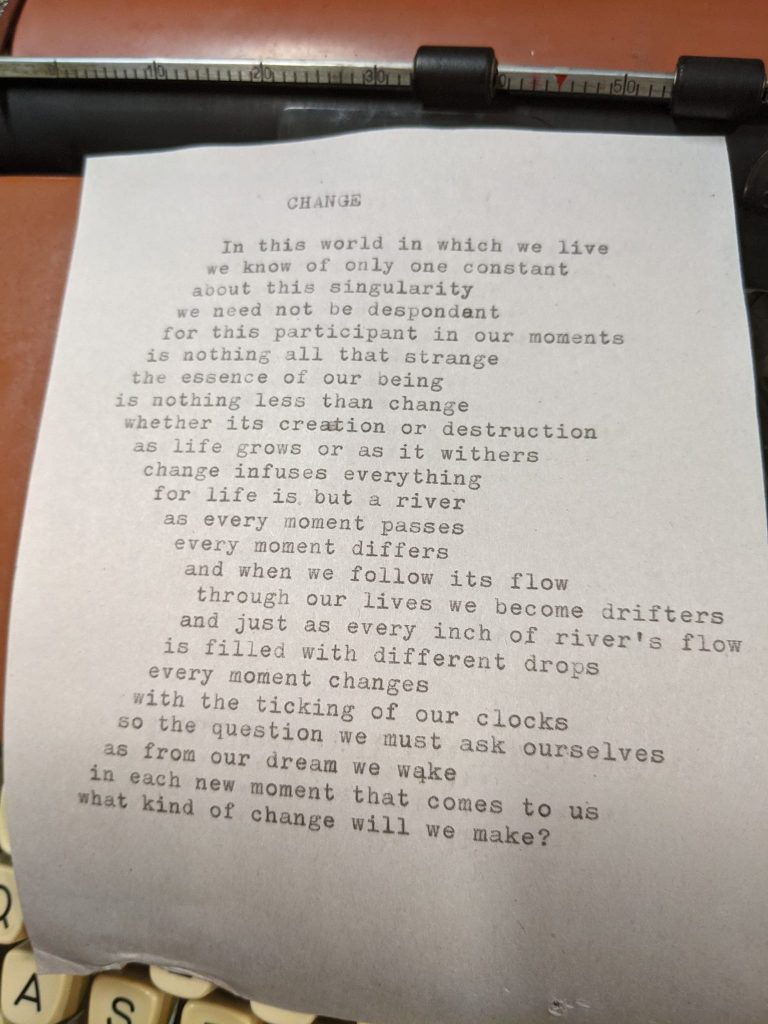 When I read the poem to her, she gave me $10 for it, and her friend gave me a dollar for the joy of listening to my reading it. She also said she would take my card to the owner of Cottonmouth Cafe, where I really want my band to play. So look for Steve McAlphabet and the Wandering Soul Band to be playing there soon.
On Saturday, I went to the Siesta Key Seafood and Music Festival. I set up my typewriter and sign on one of the concrete recliners and soon had a woman ask me for a poem. When I asked what it should be about, she said, "Surprise me." So I wrote this.
SURPRISE ME
There are many people in the world
who want to know what's coming
regardless of the race they're in
they need to know the running
so they can know the outcome
and make their choices wisely
but I'd rather be more open
so whatever comes, surprise me
I can fully understand
why people would want to know answers
they need to know who the winners are
so they can wave their banners
but I would rather not know what comes
or know what lays in store
I think that opening to the mystery of life
allows me to live much more
I want to be wild and free
while others want to be secure
I want to bask in the ecstasy of doubt
while other people want to be sure
about the bliss that comes with ignorance
you need not remind me
for all life has to offer me
I beg of you, surprise me
Soon after, about the time my bladder started to inform me that I might want to get up for a while, a county employee informed me that I wasn't really supposed to be soliciting money within the confines of the festival without having paid my dues. So I packed up my typewriter, waited in line for a porta potty, and then enjoyed a performance by Twinkle and Rock Soul Radio. Of course, I already had a piece of paper in the typewriter, so I had to write a poem about Twinkle.
TWINKLE SHINES
From the Sunshine State of Florida
arose a glimmer of a girl
with a voice pierced the silence
and was sure to change the world
for those who've written classics
she's added depth and harmony
and every time she sings
each song becomes a symphony
she lets her spirit shine
with her band, Rock Soul Radio
and even when she's not on stage
it's apparent she's a lady who
cannot help expressing love
and letting her heart light glow
and every time you hear her voice
your heart can't help but grow
for decades, she has rocked the state
and she has many who applaud her
rock'n'roll goddess that she is
she's Sarasota's favorite daughter
though some struggle to express themselves
she makes it look so simple
of all the stars in the southern sky
no one shines like Twinkle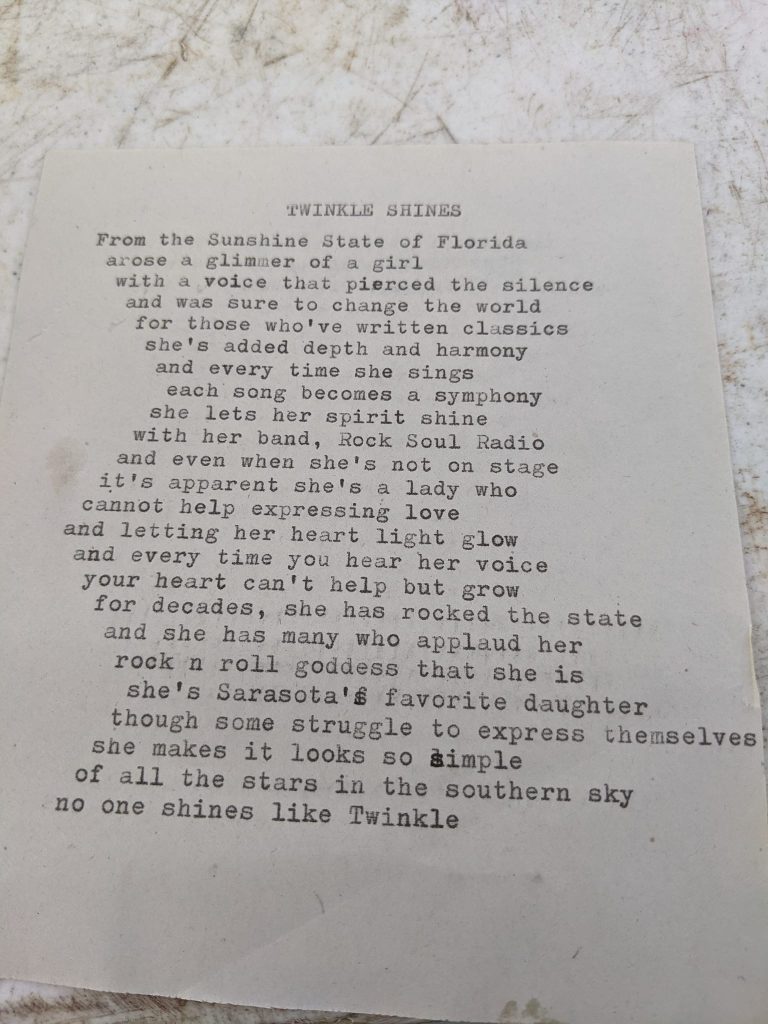 After the band finished another raucous number, I walked to the stage just as she sang, "Oh say…", and then I held up the poem. She said "Oh, hi" and took it from me. She asked, "Who wrote this?", and I said, "I did, but you can read it later." Then she put it on the drum riser and sang an acapella version of "The Star Spangled Banner" to promote solidarity. I hope she eventually read the poem.
On Sunday, I went to Payne Park for Veg Fest, where a bunch of vegans had set up a circle of tents to share food, information, and recipes on how to eat without stopping hearts. I walked around the sun drenched circle, considering what I wanted to eat when I wrote enough poetry, saw a few friends, and found a place on the sidewalk outside the perimeter in the shade. My first patron had gotten a poem from me before and wanted one for her year-and-a-half old daughter named Mina.
THROUGH MINA'S EYES
There was a time I thought
life had given me all she would
I never could imagine
that it would be this good
but you came into my life
and offered me new vision
filling my life with love
appears to be your mission
although the world around me
is filled with discord and dissonance
looking into your eyes
all I see is innocence
thank you for the light you bring
and the way you make my life shine
of all the daughters in the world
I am so glad that you're mine
you have changed the way I see the world
and you have filled my life with color
of all the things I've had the joy to be
the best I've ever been is your mother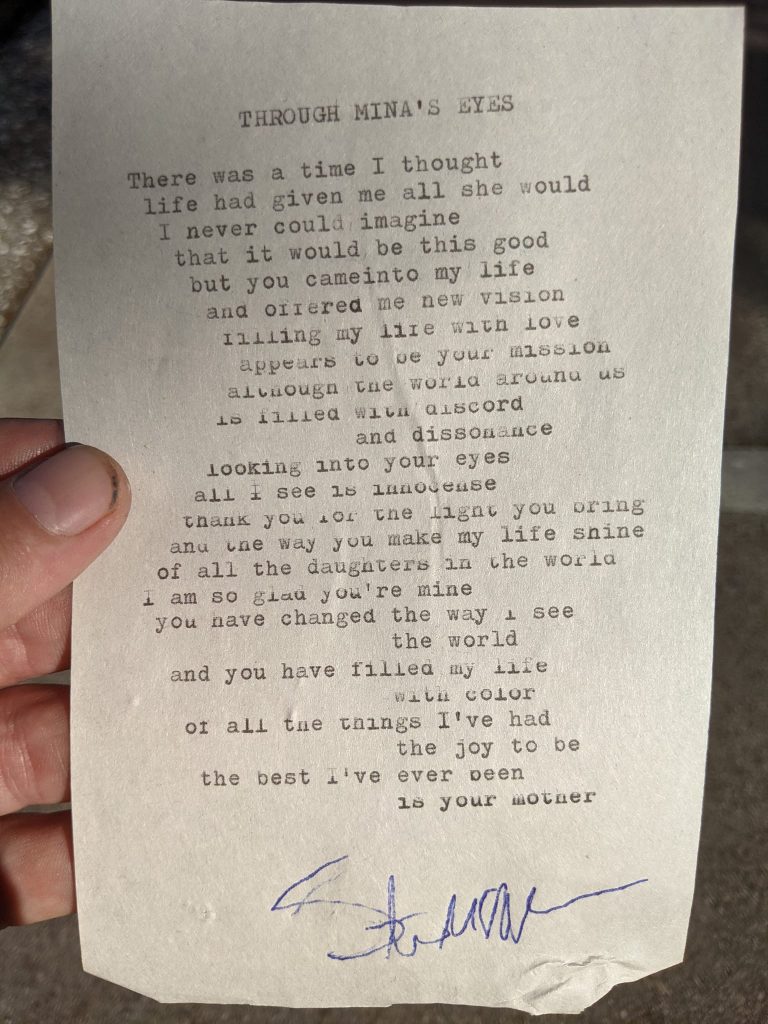 My next patron didn't know what you wanted so I asked her a few questions. Eventually, she said she wanted something that would inspire her to move from where she is to where she wanted to be. Of course, I'm paraphrasing.
THE WORLD THAT AWAITS
Today is yet another day
that offers a new world
every moment that has come before
through my memory has swirled
but I am not my memories
I am not my past
and I have many days to come
before I reach my last
so I let go of what's come before
so I can focus my vision
embracing what today may bring
has become my newest mission
I am grateful for what I can do today
I am grateful for what I can be
most of all, I'm grateful
for the future that I see
I release myself from the moments
that have filled me with any regret
as I embrace what today has to offer
I embrace my own success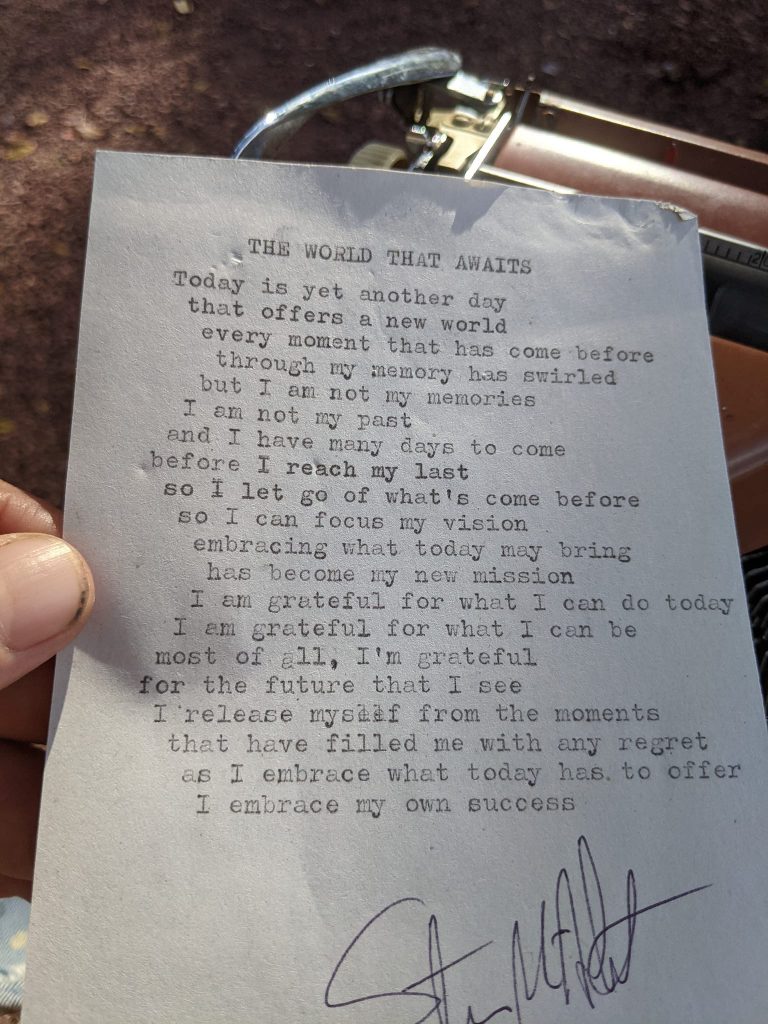 Halfway through reading the poem, she said, "Oh, my God, it's like you know me." It could just be that my degree in Psychology is finally paying off.
My third patron asked if she could just give me some keywords and let me do my thing. She said, "gardening, honey bees, surfing, and marijuana." This is what I came up with
GROWING JOY
Throughout the world of nature
joy always abounds
through its sights, scents, and flavors
and through all its precious sounds
I am so glad to see it
in the growing of my garden
and how it opens my heart
as others let their hearts harden
the buzzing of the honey bees
brings the growing of the hive
and the sweetness that comes from it
makes me glad to be alive
when I'm on the coast
and the big waves start to swell
riding nature's movement
is the bliss in which I dwell
the practice of appreciation
is my new asana
and what I appreciate most of all
is my good friend, marijuana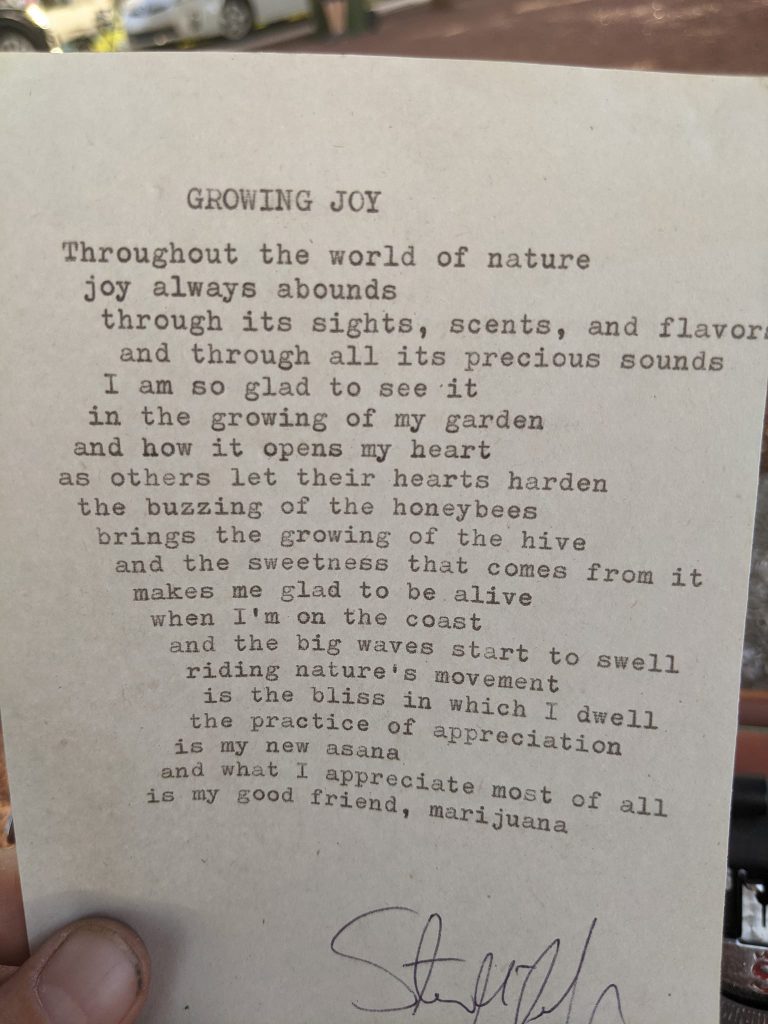 While it's a lot of fun to write these immediately and be able to deliver them within 10 minutes or so, I've started to offer this service to anybody who wants to reach out on the interwebs. So if you want a poem, let me know. As always, I cannot put a value of scarcity on any of my poems, so you are free to pay what you want.