When I left the house in Cocoa Beach, I knew I just wanted to take A1A all the way to Jacksonville and didn't bother to set my GPS. Of course, I went the wrong way. Nevertheless, I got a nice up close look at the Royal Caribbean and Disney cruise ships, and was simply awed by their size.
I was also able to find the spot that I should have gone to at midnight the other night when they had a rocket launch. On Wednesday, the window for a launch started at 12:15 a.m (well, I guess technically it was Thursday). After the incredible dinner I had, I decided to take a short nap around 9:30. Unfortunately, when my alarm went off 2 hours later, watching the rocket launch didn't seem that important and I went back to sleep. But I now know where to go watch one from if I ever get the chance again.
Once I found the right road, the ride was beautiful. While many stretches on the A1A are aligned with condos and hotels, many sections are only separated from the beach by sand dunes and grass. For the most part, the weather was perfect.
Around 3:30, I saw a storm up ahead and decided it might be a good idea to take shelter and check the radar. I happened upon a small park which had a covered shelter with a number of picnic benches and plenty of room for the motorcycle. I could not have asked for a more perfect structure as I watched the rainfall for the next 45 minutes and tracked its progress on my phone. I put on my rain pants and jacket because the radar predicted another big storm at the time I would be arriving in Jacksonville, but I said a prayer or two about clearing the thunderstorms, and I never saw another drop of rain.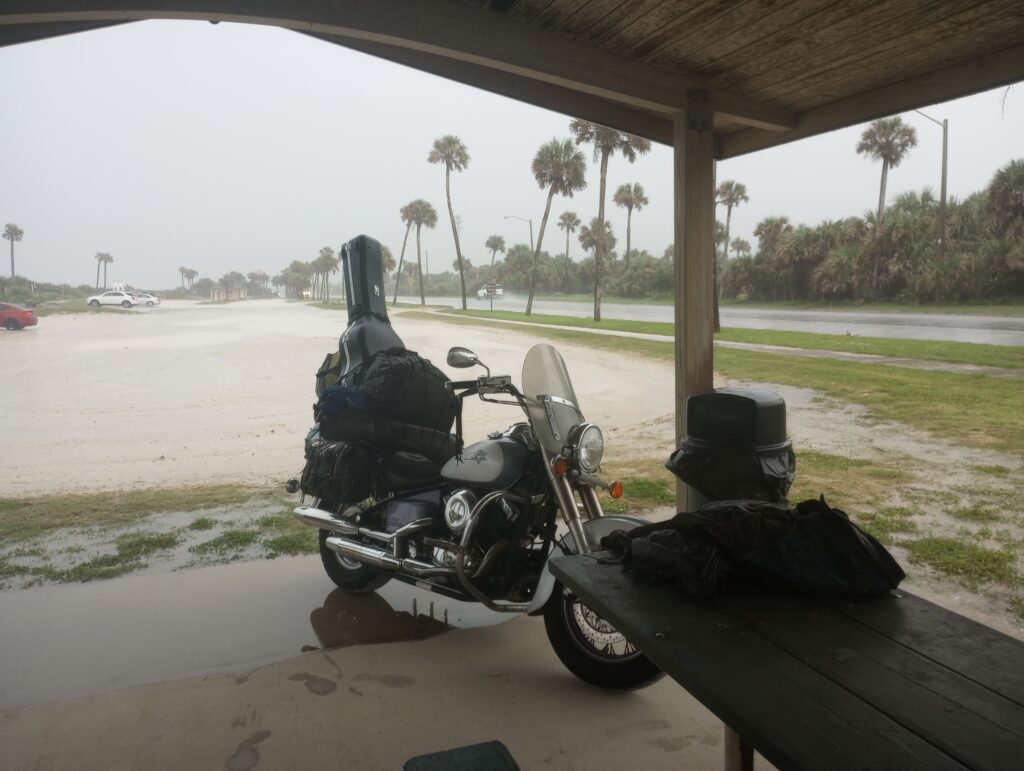 My host was from Kazakhstan. Aya won a green card last year and has been living in Jacksonville with her 10-year-old daughter Sara for the last 8 months. As the only Asian country to be part of the former Soviet Union, I was fascinated to find out more about her culture and how she has been acclimating to life in the United States.
I gave Sara a copy of "A Group of Critters" and asked her to read it for me. She not only read it, but she also drew a picture of me, and made me a pop up birthday card. I also shared some dried mango that I dehydrated before I lef Sarasota, and Sara and I became fast friends.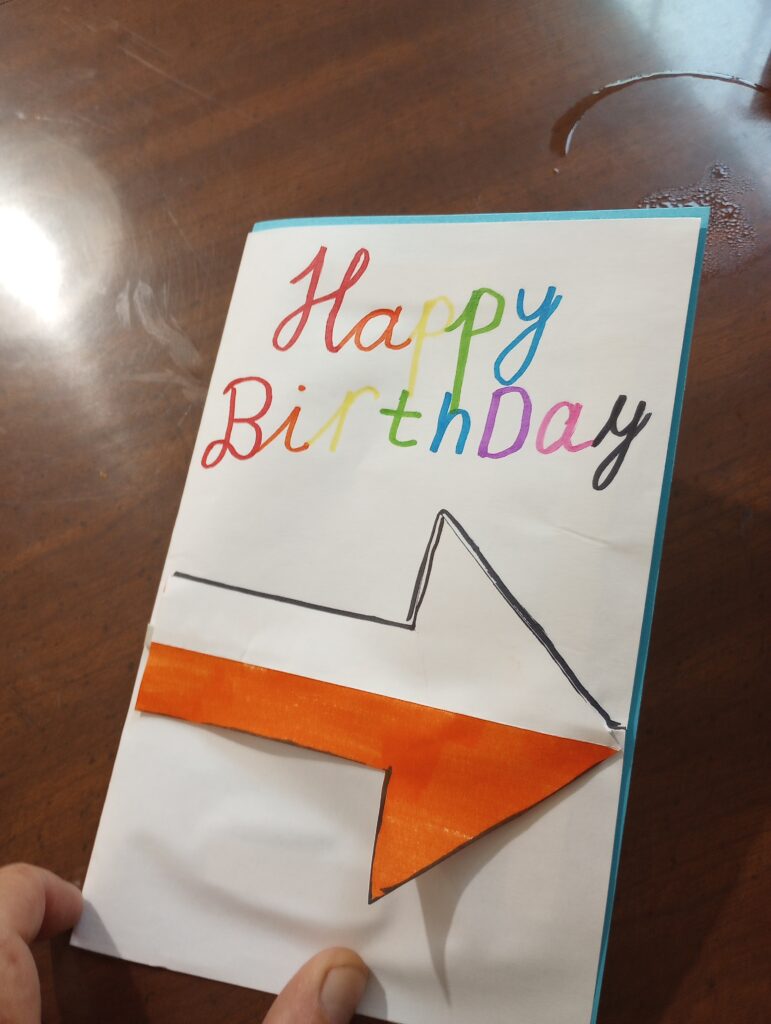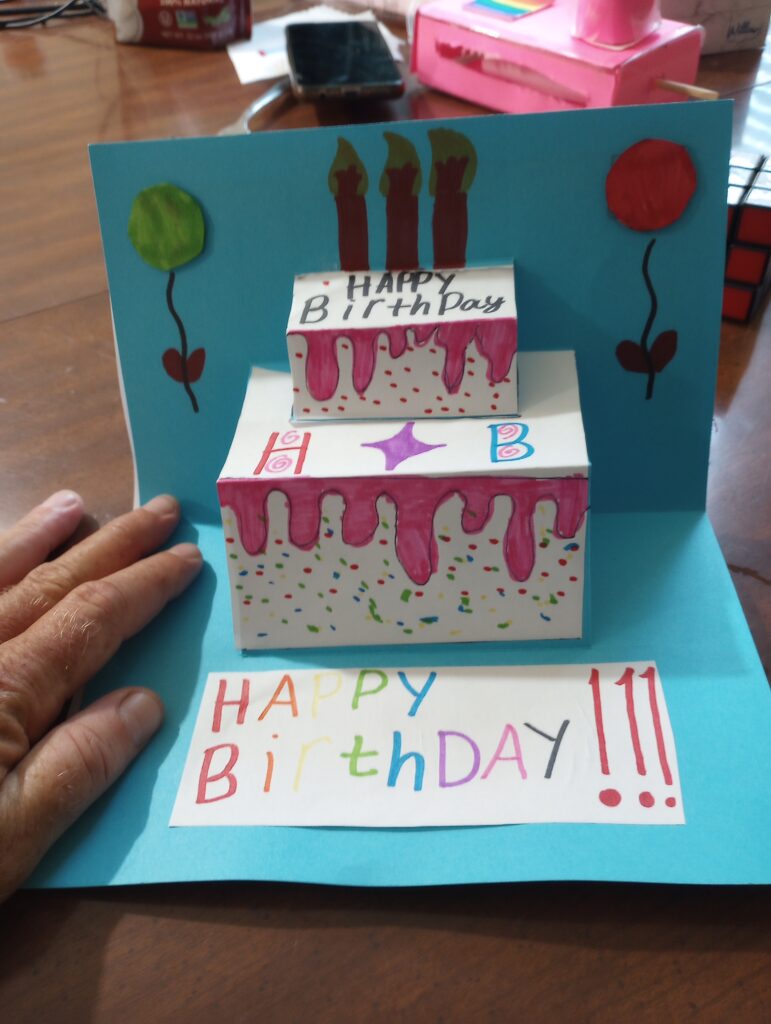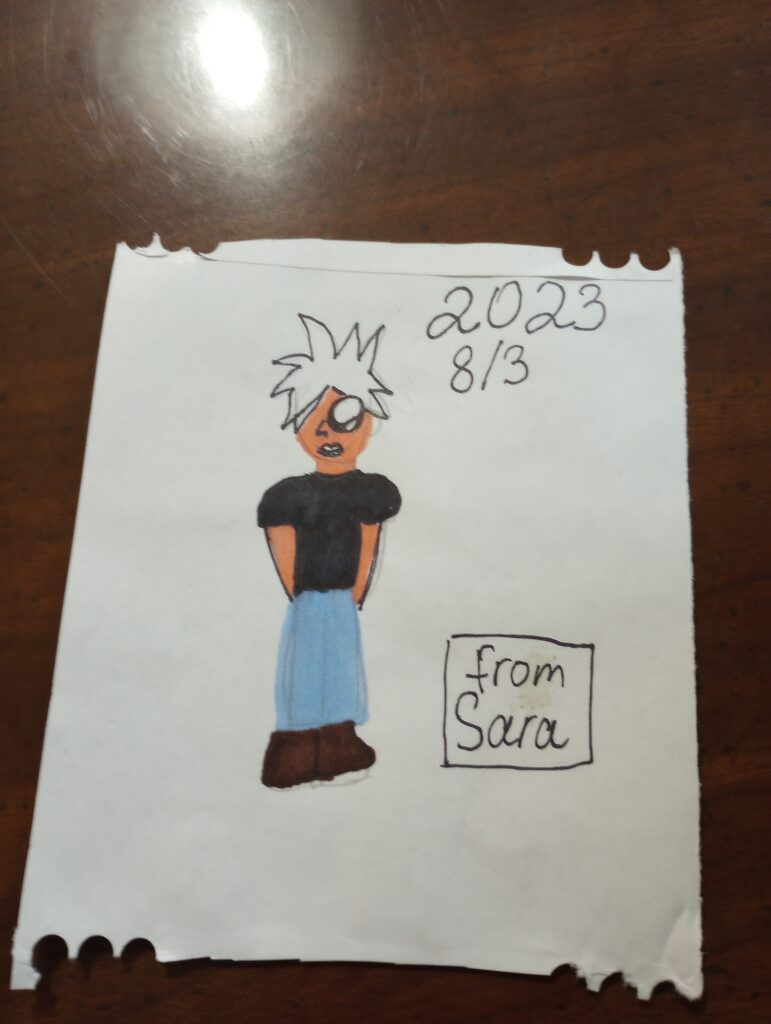 Aya's boyfriend Gazi spent most of his childhood in a refugee camp in Saudi Arabia until he got a green card at the age of 13. Although he didn't fully understand the concept of couchsurfing, and did not think it was safe inviting strange Americans into your home, he was friendly and showed me pictures of where he grew up. But as rough a childhood as he may have had, nothing could have prepared him for Aya.
Standing nearly an inch taller than me, Aya is the tallest Asian I have ever met and one of the most confident people. Both evenings we chatted on the porch until after midnight. Sara speaks pretty good English for only starting to learn it 8 months ago, and both of them enjoyed my songs, especially when I let them follow along with the lyrics on my ipad.
Since I automatically wake up at 7:00 a.m. every morning now, and since Aya is not a morning person, I left for my event at the bookstore before they woke up on Saturday. It seemed as if I was there before a lot of people woke up. Sitting at the table in front of the San Marco bookstore, there were probably a couple dozen people who ambled by during the three hours I was there.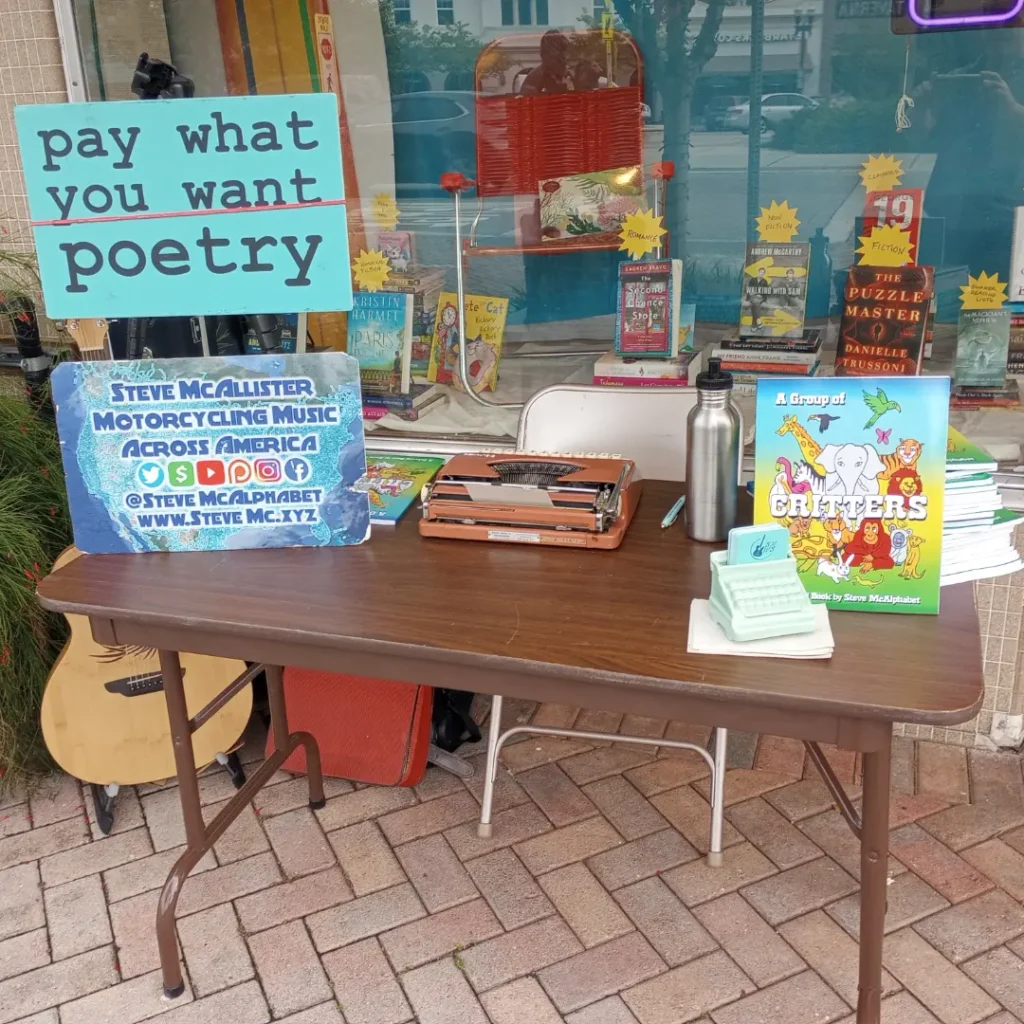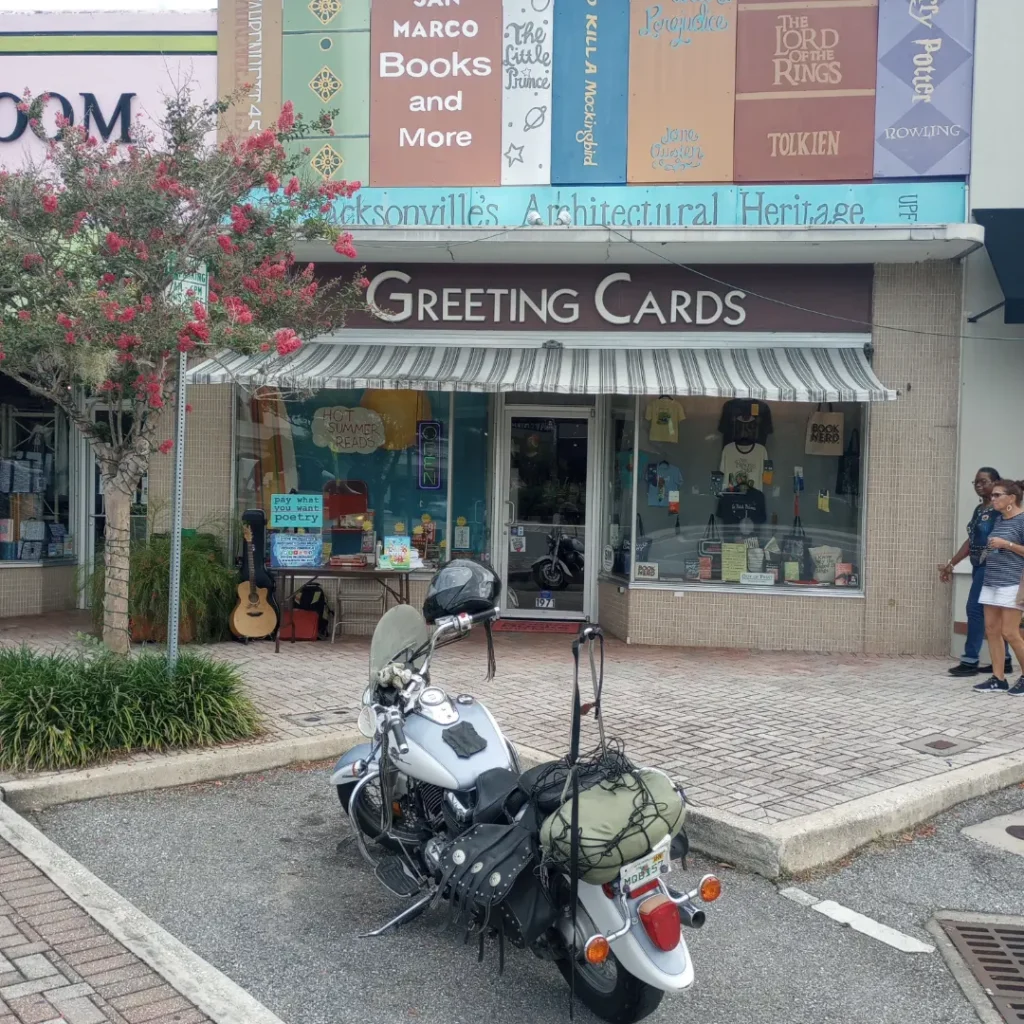 With no one around, I picked up my guitar and started sounding out a new chord progression. Once I found an alternate as well, I felt that the song should have a refrain, and after a few of them filtered through my mind, "I hope that you have a nice day" was the one that stuck. My intention for the song was to comment about how many people proclaim that everything is falling apart and the world is going to shit, but when you remove yourself from the dialogue happening in mainstream media, the world is actually pretty awesome and life can be downright amazing.
Perhaps it's because I'm staying with an Asian woman, but I noticed a lot of Asian people in jacksonville. Later, when I was looking for a local place to have lunch, I noticed a lot of Vietnamese pho spots and sushi places so I had sushi salad for lunch. I made me incredible breakfast this morning complete with eggs and broccoli, avocado, tomato, mushrooms, and horse meat, which is a common thing to eat in Kazakhstan. I thought about my horse Dixie as I hate it, but it tasted pretty good.
I hope you have a nice dayG Am D C GAll kinds of people are moping aroundNothing but scowls on their faceThey say that they're free, but look like they're boundBut I hope you have a nice dayThough you want to be up, life drags you downAnd you wish that you could find a wayTo muster a smile instead of a frownBut I hope you have a nice dayAm C G DYou will get the bluesIf you watch the newsAnd how they misuseOur fear and our trustThe way they abuseAnd tend to confuseWe only loseFor power they lustG Am D C GSo go ahead and listen, they want you to hearEverything they have to sayBreak out your signs for the end times are nearBut I hope you have a nice dayThings are so bleak, there's no reason for cheerAnd you probably should just run awayBut if you stand firm, a way will appearAnd I hope you have a nice dayC G C G DIt's easy to be hopelessWhen you've lost your focusAnd you no longer know what is trueTheir way to control usIs pretty much soullessBut there is still much we can do G Am D C GThose doomsday defenders are stuck in their grooveDon't listen to what they sayThe dial of destiny is starting to moveAnd I hope you have a nice dayThere are all kinds of nut jobs with something to proveThey all want to lead you astrayBut there's nothing they can do when finally you'veDecided to have a nice dayAm C G DI don't have to tell you that life has gotten askewA lot of drama is really undueAnd does us no goodIf we could only see throughAll the damage we doAnd freed ourselves to pursueThe lives that we shouldG Am D C GSo lift up your head and open your eyesEverything will be okayThe sky is not gonna fall, But spirits will riseI hope you have a nice dayLook down for the lows but look up for the highsWhat game do you want to playDespite all of your whining The sun is still shiningAnd I hope you have a nice day
I hope you have a nice day
G Am D C G
All kinds of people are moping around
Nothing but scowls on their face
They say that they're free, but look like they're bound
But I hope you have a nice day
Though you want to be up, life drags you down
And you wish that you could find a way
To muster a smile instead of a frown
But I hope you have a nice day
Am C G D
You will get the blues
If you watch the news
And how they misuse
Our fear and our trust
The way they abuse
And tend to confuse
We only lose
For power they lust
G Am D C G
So go ahead and listen, they want you to hear
Everything they have to say
Break out your signs for the end times are near
But I hope you have a nice day
Things are so bleak, there's no reason for cheer
And you probably should just run away
But if you stand firm, a way will appear
And I hope you have a nice day
C G C G D
It's easy to be hopeless
When you've lost your focus
And you no longer know what is true
Their way to control us
Is pretty much soulless
But there is still much we can do
G Am D C G
Those doomsday defenders are stuck in their groove
Don't listen to what they say
The dial of destiny is starting to move
And I hope you have a nice day
There are all kinds of nut jobs with something to prove
They all want to lead you astray
But there's nothing they can do when finally you've
Decided to have a nice day
Am C G D
I don't have to tell you
that life has gotten askew
A lot of drama is really undue
And does us no good
If we could only see through
All the damage we do
And freed ourselves to pursue
The lives that we should
G Am D C G
So lift up your head and open your eyes
Everything will be okay
The sky is not gonna fall, But spirits will rise
I hope you have a nice day
Look down for the lows but look up for the highs
What game do you want to play
Despite all of your whining
The sun is still shining
And I hope you have a nice day