Since being cast as Will Rogers in a community theatre production of The Will Rogers Folles in 2017, I have produced a feature length documentary about my cross-country motorccycle tour exploring his legacy and a one man show based on his writings. At the top of his multi-faceted career on stage, screen, radio, and print at the time of his tragic death in 1935, Will Rogers was the most beloved celebrity of his time and Life magazine's nomination as the 1928 presidential candidate of the Anti-Bunk Party. I am now offering opportunities for audiences to revisit the wit and wisdom of America's greatest humorist with a screening of The Road To Will and a performance of Get The Bunk Out on my 2023 motorcycle tour of the North American East Coast.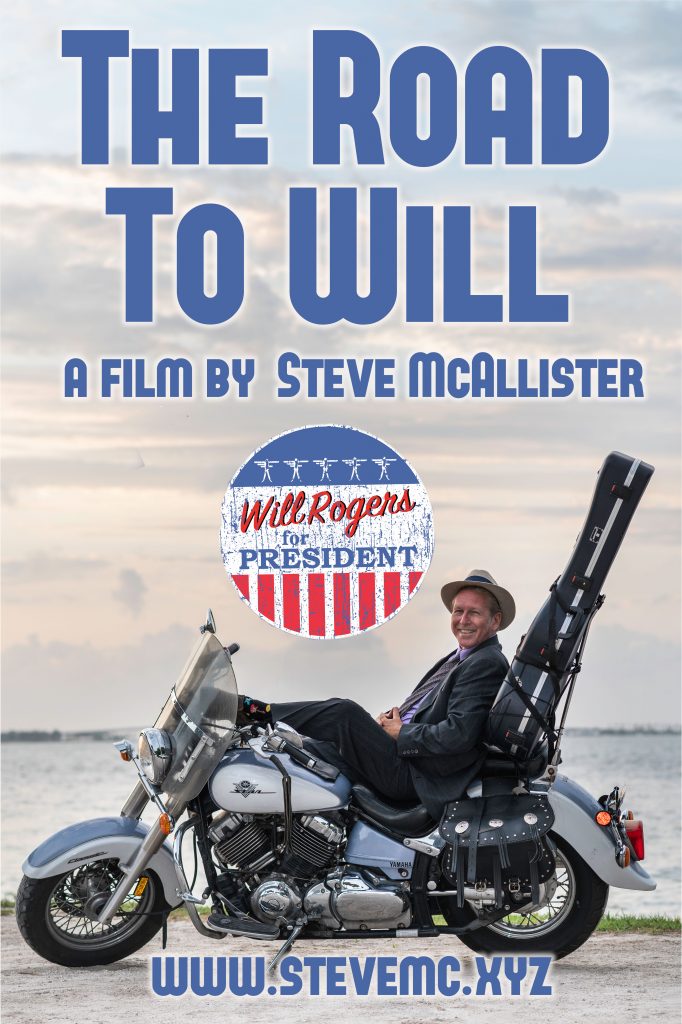 The Road To Will chronicles my 10,500 mile coast-to-coast motorcycle tour through 24 states and Washtington DC while visiting memorials to the man I have been playing for the last five years. Get The Bunk Out is the most recent iteration of my performance, based on his political humor and infused with original songs and poetry. The experience offers an educational journey into the life of one of America's most fascinating citizens and a humorous look at America's political system.
Will Rogers had a way of joking about politicians on both sides of the aisle and was the only person in history to speak at both the Republican and Democratic conventions in the same year. Considering the volatility of our current political climate, bringing Will's humor back to the minds of America can open up a new dialogue about the future of our country by taking an honest look at the past.
The film is one hour and forty minutes, and the performance is one hour. With intermission, the entire experience is three hours. Each experience can also be followed up with an audience Q and A after the screening and performance, and it can also be expanded with a performance of The Cowboy Cabaret, a blend of music and poetry celebrating the cowboy mythos that can serve as either an opening act or musical encore. Audience members get to choose the songs played in the set from a custom deck of song cards comprised of well known favorites and well written originals, making each performance unique and flexible for time, from five minutes to two hours.
I am currently booking experiences for my 2023 tour of the North American East Coast from Florida to Quebec and back, which will be released as a web series in 2024. The tour will again be on motorcycle from August through October. There are 21 major cities on the route that I intend to visit and create experiences, but along the estimated 5,000 mile tour, which is half of what I rode on the 2022 tour, I am open to whatever opportunities the ninety days may have to offer.
Cities I intend to visit on my 2023 tour.
St. Augustine, FL
Savannah, GA
Greensboro, NC
Clifton Forge, VA
Washington DC
Philadelphia, PA
New York, NY
Boston, MA
Bar Harbor, ME
Montreal, QC
Toronto, ON
Detroit, MI
Fort Wayne, IN
Cincinatti, OH
Louisville, KY
Nashville, TN
Pigeon Forge, TN
Asheville, NC
Athens, GA
Gainesville, FL
If you'd like to be part of the journey, contact me at stevemc.xyz@gmail.com.