On the first day of the seventh month of this year, I rode into the seventh state of my journey. Since leaving Kentucky after the PlayThink Festival, I made my way back into Tennessee and I stayed with my nephew and his girlfriend in Nashville. Being the city of music that Nashville is, I'd spent the first couple of days exploring and looking for places to play in the subtle hope that some producer might hear the brilliance inherent in my songs and have Jason Aldean (or anybody with a record contract) record one of them, but the soreness in my ribs from my motorcycle accident a week before convinced me to just relax and appreciate the solace of my nephew's basement until the bruises on my ribs suitably healed. I will certainly be back through Nashville, and will hopefully arrange for a few performances before I get there next time, but as it was, I was glad to remain immobile and enjoy some movies on YouTube before they started filling them with commercials on the first of July.
The ride to North Carolina was beautiful! In spite of the constant stream of Dollar General stores that now permeate nearly every mile of America, the roads weaved through hills and pastures, offering a lovely glimpse of a simpler way of life than the congestion of metropolises. Along the way, I noticed that Tennessee had constructed another leg of the Foothills Parkway, offering a meandering ride into the Great Smoky Mountains National Park with some gorgeous overlooks.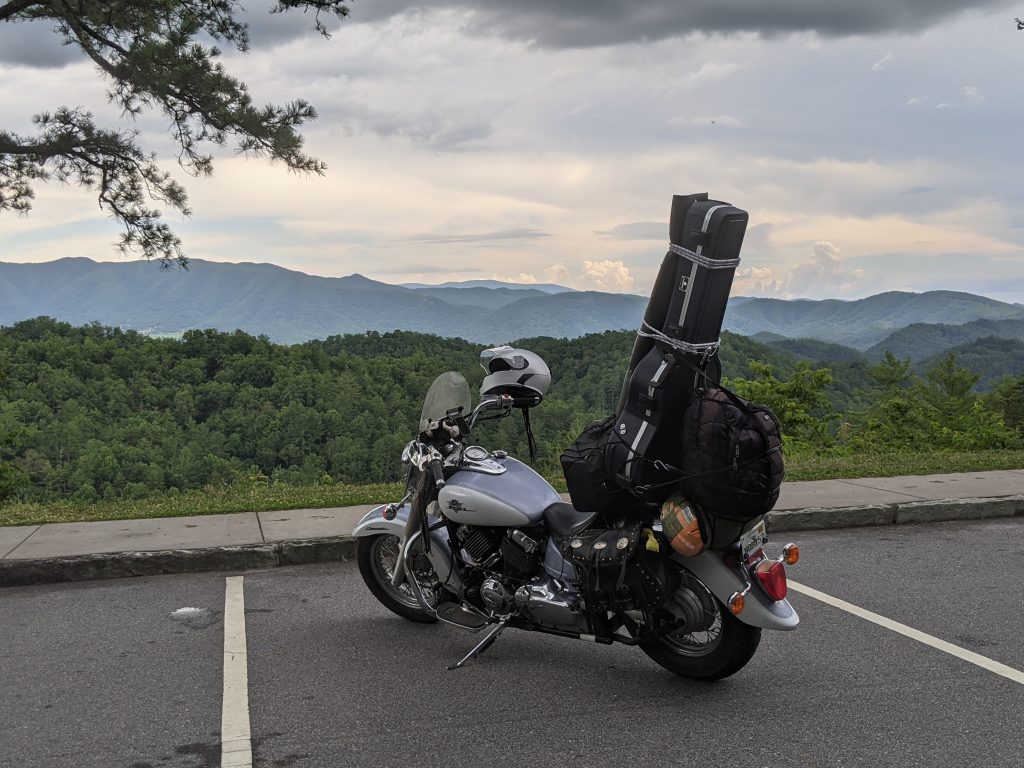 Taking 441 through the National Park to Cherokee, North Carolina may be the most beautiful ride of my trip so far. Twisting its way through the mountains, the route offers a number of places to stop and hike, and a large portion of it runs along a charming stream of mountain water. I didn't even notice that I'd passed into North Carolina, but was greeted by a herd of elk that was grazing in a pasture along the road as well as in the median, so close that I probably could have petted one as I rode by if I'd wanted.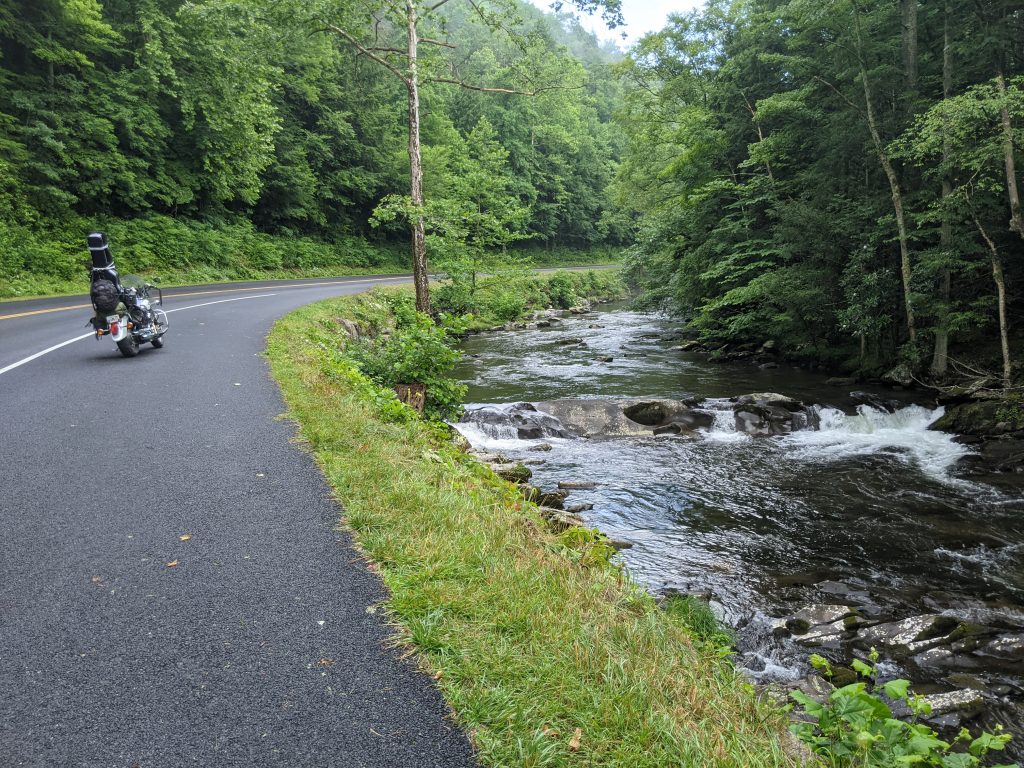 Since most Americans are itching to get out of their homes after the lockdown, national and state parks have been pretty popular getaways, and camping grounds are often filled up. Fortunately, I'm not really trying to go camping, I just need to find places to rest without getting harassed by folks who want to shake me down for money every time I close my eyes. While I can certainly understand paying for a bed and even paying the 20$ required to stay in a place that offers me access to restrooms and outdoor grills for cooking, since no such accommodations were available to me (and because I didn't want to drop 90$ on a hotel room), I started my way up the Blue Ridge Parkway, found a gated road to park my motorcycle and a couple of trees to hang my hammock. And to the probable chagrin of capitalists everywhere, I slept a whole night without paying anyone for it.
I don't often get that hungry when I'm riding, and when I do, I usually decide to keep riding in lieu of stopping for a meal. I'll grab a cup of coffee when I gas up from time to time, but I just don't have a lot of interest in food. However, considering that all I'd eaten the day before was a few handfuls of boiled peanuts, when I woke up in the bliss of the Blue Ridge Mountains, I was hungry for pancakes, and I was glad to see that Joey's Pancake House was a featured restaurant in Maggie Valley, which was only a short ride to the north.
Repacking my hammock and sleeping bag onto the bike (and unfortunately forgetting to repack my sandals, my only alternative footwear), I continued up the mountain road. The Blue Ridge Parkway is relatively quiet at seven in the morning, and at an elevation of 5,150 feet, it was quite foggy, sometimes not allowing me to see 100 feet in front of me. But I found my way to my pancake haven, filled my belly with a nice breakfast, and after a visit to the beautiful Soco Falls, I made my way back to the parkway.
There was a sign recommending that people stay off the parkway when there was snow, rain, and fog, but it was my ill-conceived intention to ride the entirety of the parkway, and I was optimistic that the fog would burn off eventually. Unfortunately, optimism is often nothing more than ignorance blinded by hopeful delusions. The fog soon thickened to a moist canvas of precipitation that eventually congealed into about fifty miles of rainy twists and hidden curves that turned my knuckles a vibrant shade of white as I stubbornly stuck to my course, pulling over at nearly every veiled overlook to let cars pass before puttering my way back into the relentless rainfall.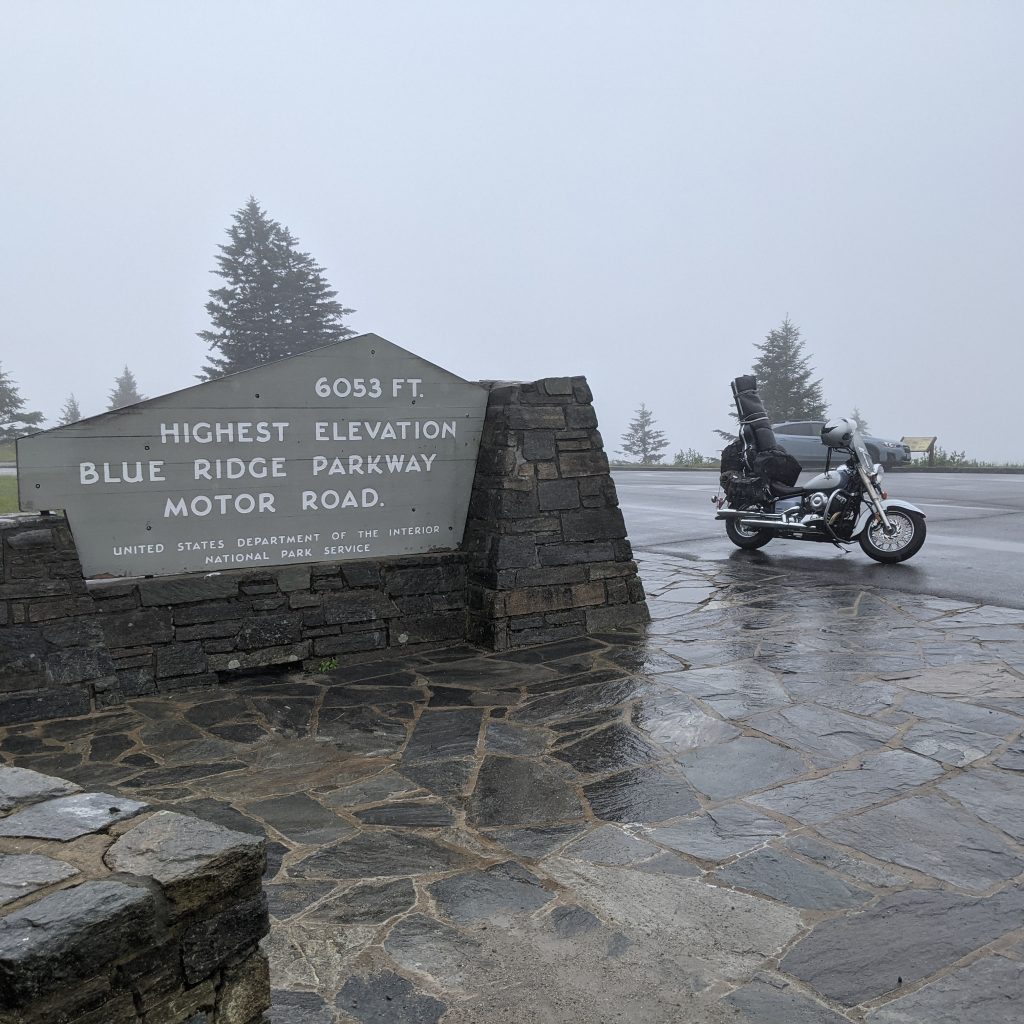 Although I'd previously decided to bypass Asheville since none of my outreach had resulted in a place to stay, by mid afternoon, my soggy boots and gloves were in need of a rest. The sun came out about 500 feet before the turnoff into Asheville, and I found a place to fill my tank with gas and belly with coffee as I sought a place to lay my head for the night. It came to mind that Asheville may have some hostels, and a quick search found the Sweet Pea Hostel right in the heart of downtown. I plugged it into my GPS and made my way there.
When I arrived, I was told that I needed to make a reservation through their website or Airbnb, so I quickly brought it up on my phone, made my reservation, and rang the bell again two minutes later. I was gladly welcomed and given a tour of the facility which has been in existence since around 2009. The Sweet Peas Hostel offers visitors the choice of a private room, a private pod, or a bunk bed and locker in a shared room, all for very affordable prices for the savvy traveler.
After unloading the motorcycle and realizing that I had lost my sandals, I put on another pair of dry socks and my squishy, leather boots, and went to explore downtown Asheville. Having previously gone to college at nearby Mars Hill and having lived for brief stints in Asheville and nearby Weaverville, I have returned to visit the town on occasion, and I'm glad to see that it has both changed and stayed the same.
After a light rain swept through the area, I set up my guitar case in front of Malaprop's Bookstore and played music for about a half an hour to a meager stream of passersby, netting myself a whole dollar in tips. Fortunately, it had been more than a week since I had even played guitar, and I was happy to have the rehearsal time even if I didn't make much money doing it. Later on, as I further explored the area, I noticed a man simply sitting with a hat in his hands which was brimming over with money and considered changing my strategy, but the other buskers with portable amplification devices were also doing quite well so I'm sure I'll stick to the strumming and not revert to bumming.
When I returned to the hostel that evening, a girl from Columbus, Ohio was bringing out her banjo to play a few songs, and we sat together as she taught me a number of bluegrass anthems, including "Rocky Top" (which, for some reason, was the only song that kept running through my mind as I was riding the Blue Ridge Parkway, even though I don't know the words) and I taught her a few more contemporary and original tunes. Although the Sweet Peas Hostel is a delightful place to stay, filled with a number of delightful travelers, offering clean showers and a full kitchen to cook food, it does have one minor downside – the floor. While they are beautiful to look at, the wooden floors were either installed by someone who was doing it for the first, and hopefully last, time or they have been warped since, but every single one of them creaks with every single step. Fortunately, ear plugs are provided when you first arrive, and I was able to get a very good night's sleep, but the musical flooring is the one flaw that may give other visitors pause should they need complete quiet in their accommodations.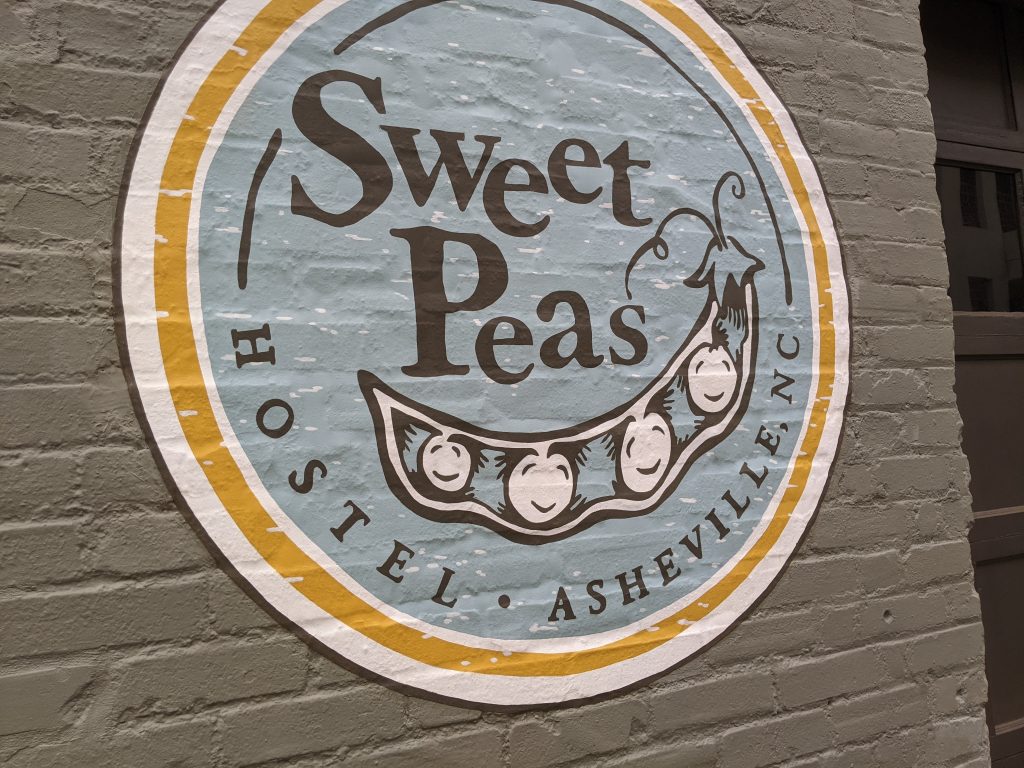 I packed the motorcycle again in the morning and set out to meet my friend Misha in West Asheville at a local eatery called Biscuit Head, where they make delicious, vegan biscuits the size of a cat's head with all sorts of accoutrements. I passed by Calvary Baptist Church, where I worked as an interim youth minister in my final year of college, visited a few thrift stores in an unsuccessful attempt to replace my deteriorating boots, and made a visit to my alma mater, Mars Hill College, now called Mars Hill University, being sure to ride by every apartment and dorm room I inhabited during my stay and marveling at the buildings that have been erected since I've been gone.
After the previous morning of rain on the parkway, I had released my intention to ride the entirety of it. However, whenever I saw a sign proclaiming that it was near, I reconsidered getting back onto it again. Since a large chunk of it was, for some reason, inaccessible, I wouldn't have been able to ride the whole thing anyway, but I did get back on north of Linville Falls, found a place to hang my hammock and my tarp above it to avoid another burst of rain near nightfall, and got off in Blowing Rock before making my way into Virginia, where my first stop was a Liberty gas station in a town called Independence.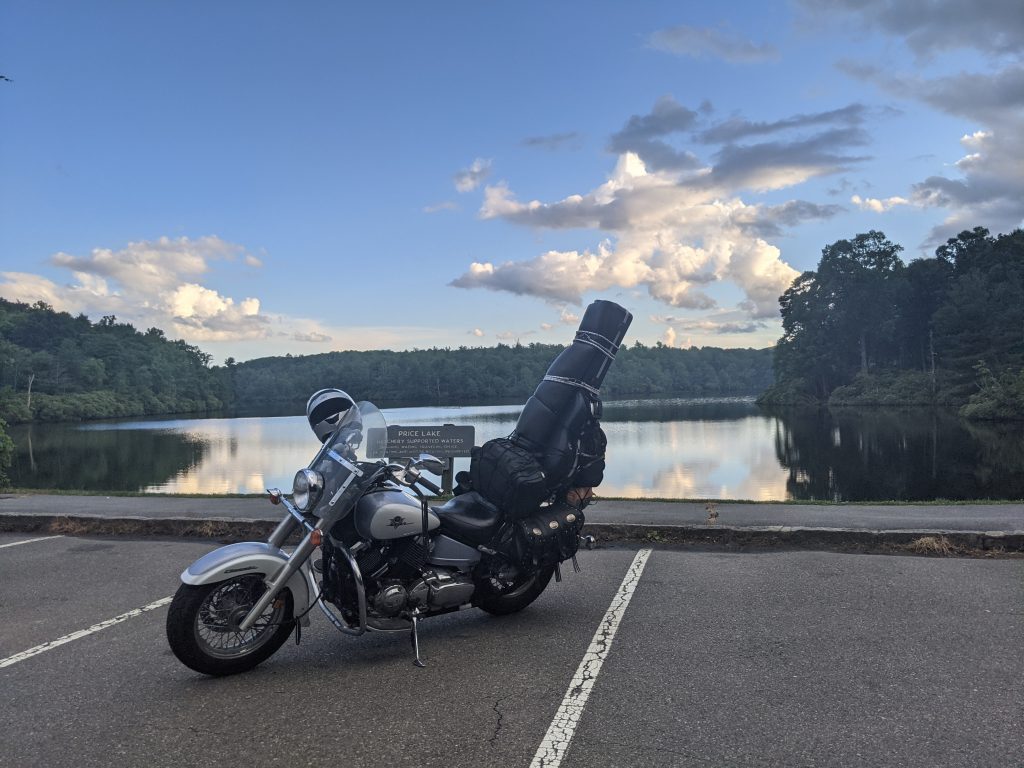 A man in the gas station saw my Florida tag and assured me that I was about to ride through some of the prettiest countryside I've ever seen. I didn't have the heart to tell him the competition his state faced in the miles that I had already put behind me. And while it certainly was a beautiful ride, the afternoon rains did put a bit of a damper on my enjoyment of it.
I managed to find two different gas stations at various parts of the journey to keep out of the rain for a spell, but for quite a bit of it, I was in a constant downpour. Along the last leg of my trip, I pulled into a VFW, where I saw a pavilion covering a number of picnic tables to seek shelter. I was quickly joined by a few members of the American Legion who were preparing for their monthly meeting and were kind enough to invite me in for a cold drink and some good conversation before I found another gap in the rain and made my way to my sister's house in Clifton Forge.
And though I am not a big celebrator of holidays, I do observe them, and I certainly was appreciative of my independence during this particular observance of it.