Although I was a motorcyclist in California for nearly two years nearly twenty years ago, this time around, I've only been riding for about two months and would still be considered a novice. When I first purchased a motorcycle in 2002, I bought it in Reno, Nevada and basically learned to ride as I headed over Donner Pass and made my way to the Pacific Coast Highway. This time, I have been blessed with a number of YouTube videos and the Basic Rider Course required by the state of Florida to get my endorsement, but I still have a lot to learn.
As I adjusted to the extra weight and susceptibility to wind my guitar and baggage provide on the first day of my journey, I dealt with the storms by puttering along at 50 mph in 65 mph zones, occasionally pulling to the side in order to let traffic pass. While I've gotten accustomed to the weight and adjusted my packing to be less like a sail, I've still been in no hurry, and have taken corners very slowly, usually taking 45 mph corners at 40 mph and not leaning too deeply into them.
Because Americans usually go at least ten miles over the recommended speed limit, I've been actively courteous about pulling over to let them pass when I've been able. After misjudging the amount of gravel at a recent pull off and taking my bike and myself to the ground, I am going to be less courteous in the future.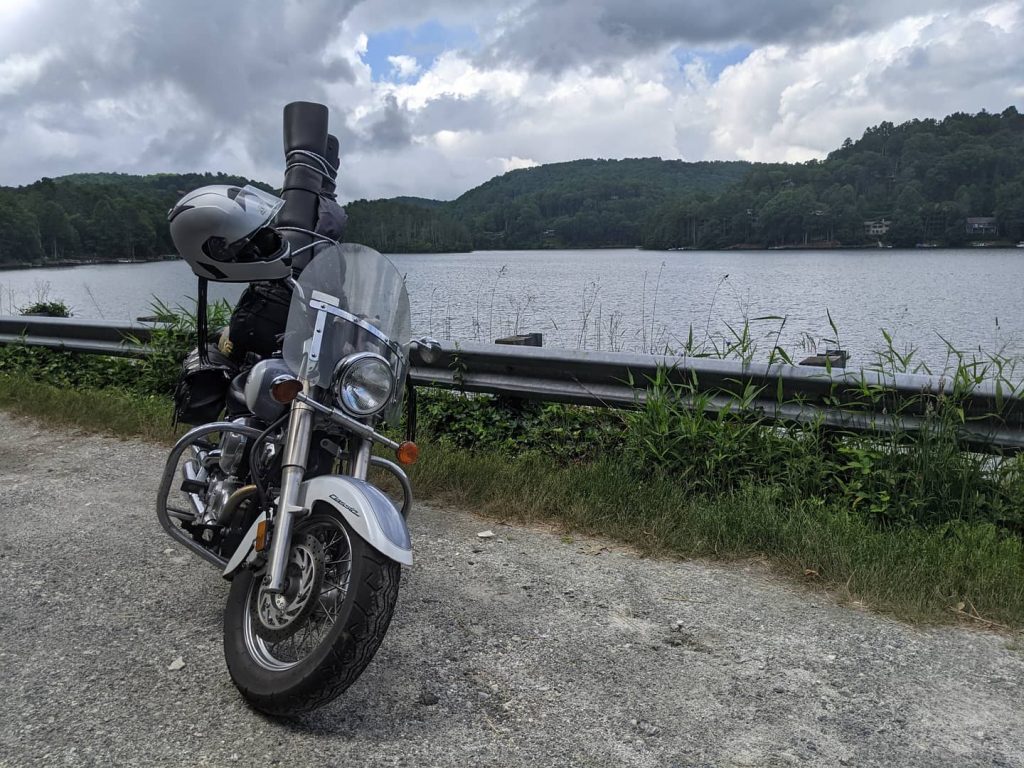 I was thoroughly enjoying my trip from Greer, South Carolina to Cullowhee, North Carolina, taking in the splendor of Appalachia and the wonderful winding roads. Shortly after crossing the eastern Continental Divide, I decided to be nice and pull to the side to let a car pass by me, since I do not like having cars behind me and do not like holding people up. Unfortunately, as I pulled to the side, the wheel slid into the gravel, and before I knew it, I was on the ground.
As gasoline leaked out of the gas tank, I struggled to get my leg out from under the 535 pound motorcycle and its extra 100 pounds of baggage to no avail. I muttered a few four letter words before expressing gratitude that the people I was trying to let pass had actually pulled over to help. They helped me get my leg free first, and then helped me get the bike back on two wheels.
Although my side hurt, my adrenaline was pumping, and I felt more embarrassment than pain. I thanked them for their assistance, started the motorcycle up, and continued on down the road. They continued to stay behind me at a healthy distance before turning off about a mile further.
I soon noticed the sign for Judaculla Rock and remembered it from the directions my friend Adam had sent me when I told him I was coming for a visit. I pulled over to the gas station at Caney Fork and texted him about what happened, assuring him that I was okay, but needed a moment to get my wind back. I sat on the bench in front and felt the pain start to seep in.
After putting another gallon of gas into the tank, I headed down the appropriate road and finally found their house. Adam found me some pain relievers and his wife Regina ran to the store to get me some beer. Both were welcome and helpful.
I considered the possibility that I may have broken a rib, and my hosts wondered the same, asking if they should take me to the walk-in clinic. Although my side hurt a lot, both when I moved and breathed deeply, I didn't feel like anything was broken, just bruised. And even if I had broken a rib, it's not like I could put a cast on it so all I could really do was take it easy, rest, and let time heal me.
I met Adam years ago, when he was a defense attorney in Sarasota, so he's plenty used to dealing with idiots going through tough times. He and Regina have been incredibly gracious over the last few days, and although it wasn't entirely comfortable, I enjoyed a nice three mile hike through the Nantahala Forest the day after my accident, and gave them a creekside concert the following day, with Adam accompanying me on his acoustic bass.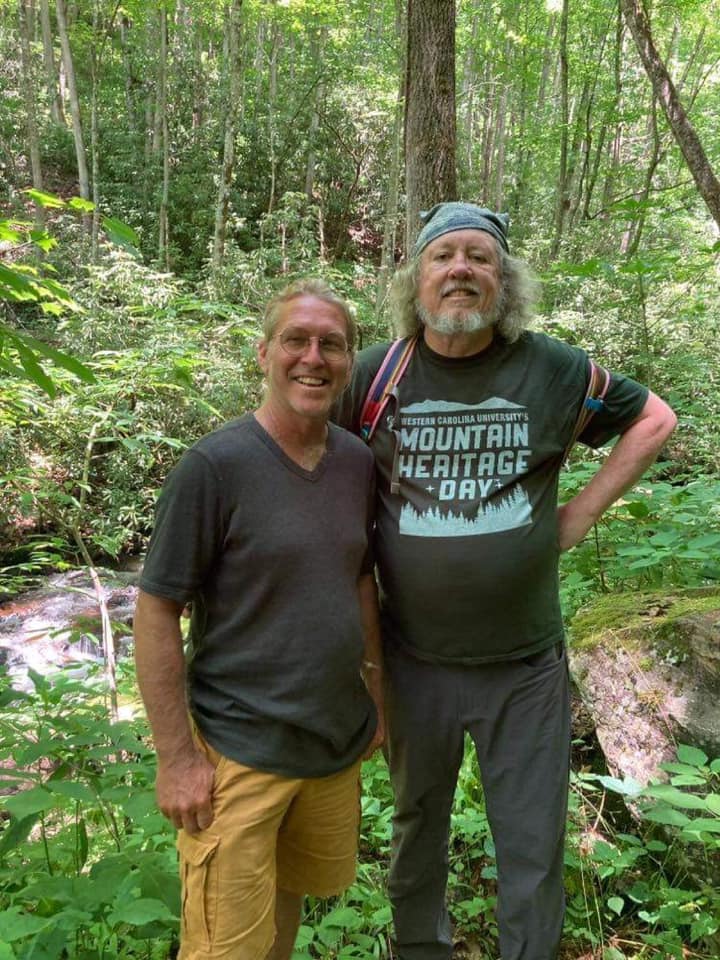 It still hurts to sing high notes, as does the occasional cough and sneeze, but I am still determined to perform at the PlayThink Festival in Kentucky on Friday. I think I'm good enough to ride, but I doubt I'll be taking part in many of the yoga workshops or trying my hand at any aerial acrobats. Nevertheless, the show must go on and the road awaits.
If you happen to get behind me, and I'm not going as fast as you'd like, I apologize in advance for slowing you down and for not pulling over to let you pass. My lesson has been learned, and you'd probably be well served to slow down and breathe anyway. My health is more important than your hurry.