I'm often pretty good at manifesting what I want, and though my greatest challenges are not knowing what I want or not wanting enough, when I really focus on something, I'm pretty good at making it happen. In early April, I had an idea to get a motorcycle, and within the week, I bought one, and a really nice one at that. Now, I can't wait to hit the road.
The last time I owned a motorcycle, I was living in Los Angeles. I had arrived there sixteen months earlier after transitioning into my thirties by hitchhiking across the country and starting over. I bought my first motorcycle in Reno, Nevada in 2002 and learned to ride by crossing Donner Pass, scooting up to Oregon, and riding the PCH down to LA.
A Miata eventually turned that motorcycle into scrap iron, and when I decided to leave Los Angeles in 2004, I decided to leave my second motorcycle there. I will be the first to admit that I don't always make good decisions, but wanting to attend a reunion of my college friends in North Carolina and chase a woman who intrigued me back to Sarasota, I thought it best to leave the motorcycle in consignment and hitchhike back across the country. I think that the shame of that idiotic mistake is what has kept me from even considering the possibility of owning another motorcycle throughout the years since. Compiled with the suspension of my license over an unpaid speeding ticket ten years ago, I suppose I've thought that I didn't deserve it.
Nevertheless, after the speeding ticket was finally dropped, I got my license back in January, thought about getting a motorcycle on a Tuesday morning, and had one that I love delivered on the following Monday afternoon.
Initially, I searched Facebook Marketplace and Craig's List. It boggles my mind how many people post ads to sell things, but never respond to inquiries about them. After days of searching, I had narrowed it down to two very similar bikes (right down to the make, model, year, color, and mileage), one for 1500$ in Port Charlotte, and one for 2200$ in Parrish.
By Saturday, the guy in Parrish was the only of the two to respond to my message so I asked my friend Joan if she wanted to go for a road trip, and she jumped at the chance. As it turned out, the guy from Parrish bought the motorcyle for 1500$ from the guy in Port Charlotte, and had already made a 700$ profit by selling it to somebody else. He had an 1100cc Honda Shadow that he tried to sell me, but it was more bike than I was looking for.
It started to rain on our way back to Sarasota and continued on through Sunday. That evening, I saw an ad for the OfferUp app, downloaded it, and started searching the cycles for sale in the area. I found it in Dunedin.
She is a Yamaha V-Star 650 Classic that I have come to call Vivian. She is gray, white, and a lot of chrome. Vivian was built in 2002, the year I bought my first motorcycle, and she had only 4901 miles when I first sat on her, which is cool since I'm now 49. The title says she was first registered on April 18, 2002, and I registered her on April 19, 2021.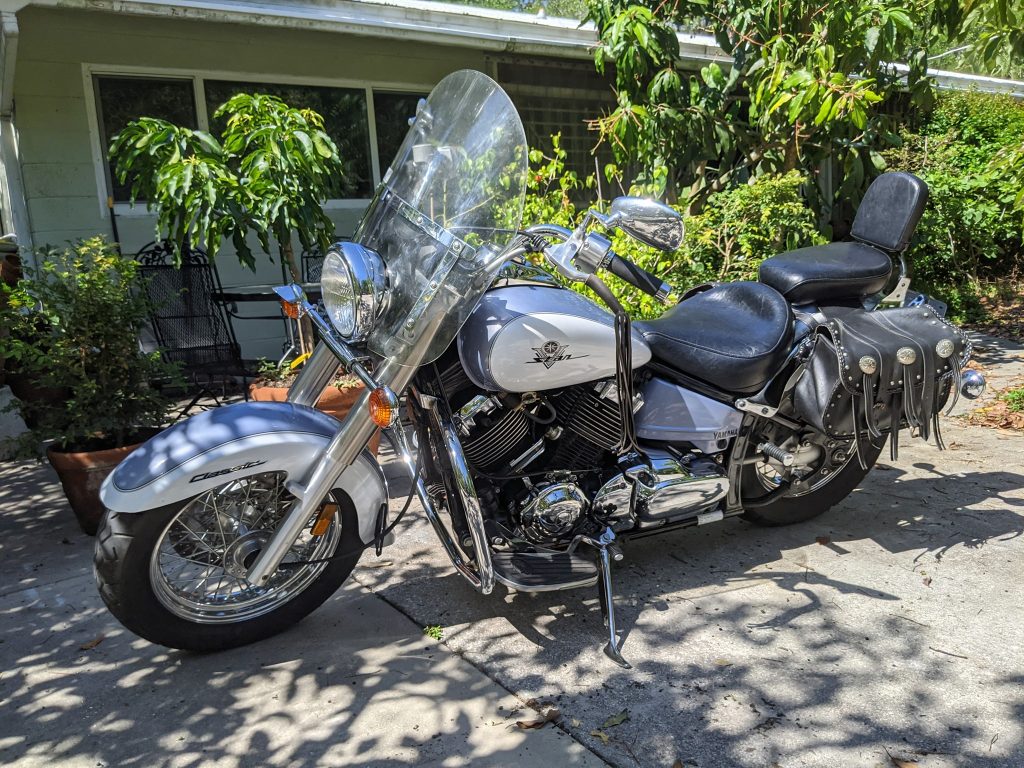 Joan was excited to be part of the process, so we headed up there on Monday morning and met the owner at a gas station near his house. He had just purchased Vivian from the original owner in Spring Hill and wanted to sell her in order to get a Harley. Personally, I don't want to be a motorcycle mechanic, I want to be a motorcycle rider, so I was glad to take the Yamaha off of his hands so that he could get a Harley to work on.
Since I haven't operated a motorcycle in 17 years, am not legally allowed to operate one, didn't have insurance for it, and since the bike had a bright yellow New Mexico tag last registered in 2012, I didn't feel good about riding it home. I gave the seller an extra 50$ to load it in his truck and deliver to my home in Sarasota. Paying 2500$ for 650cc of empowerment, I was grateful for the 2400$ in economic stimulus that had been deposited into my bank account. America, I hope this helps me serve you better.
After riding her around the neighborhood and listening to her cough and sputter as I took her to show my family, I dropped her off at Hap's Honda to clean out the fuel lines, carburetor, and anything else what was effected by her sitting in a garage for the last nine years. Having her in the shop, knowing that they wouldn't be able to get to her for days, helped me overcome the temptation to go riding and put myself at risk of getting ticketed. Now that I have my temporary tag, once I get her out of the shop, I'll feel better about riding around without getting hassled by law enforcement until I get my motorcycle endorsement on May the 4th.
Interestingly enough, my application to perform at the PlayThink Festival in June was approved, and when I first sent it in, I wasn't even thinking about how I might get there. So now that I've edited my performance of Steve McAlphabet Explains ABC Squared Economics down to a tight 60 minutes, I'm wondering where else I might be able to perform the show on my way to Kentucky for the festival and where I can perform it afterward.
I've often imagined travelling the country by motorcycle, but I suppose I just didn't fully expect the opportunity to actually do it. When I left Sarasota twenty years ago, I left to search. This time, I feel that I actually have something to offer.
That's not to say that I won't come back. After all, Sarasota is my home, and I always seem to come back. But I've said for years that I would love to leave for the summer, and since I've got an opportunity to leave in June, I'd really like to find some places that don't get so damn hot during July, August, and September… and there are places where the leaves change color in the Fall.
When I first started thinking about getting a motorcycle, it was to find places to perform in St. Pete and such. I wasn't even thinking about Kentucky, but now that I'm going to Kentucky, I can't help but imagine where else I can go. After being bound to a bicycle for the last decade, Vivian has made me give much more thought to what I want, and I am sure we will manifest some incredible experiences together.