Before The Cowboy Cabaret show the other night at The Starlite Room, I moseyed on upstairs to say hi to the folks attending the play reading for which my show was moved downstairs. Of course, I ran into Jeffery Kin, the Artist Director at The Players, and dressed in my cowboy duds, he said that I would be perfect for the lead role in The Will Rogers Follies. Though I've never seen the show, I've read a lot of great quotes from the man, and since I really have wanted the opportunity to play on that stage one last time before they move out to Lakewood Ranch, I told him to have the director contact me if he wants me to read.
The next day, I got a call requesting I come in for the call back auditions at 4:30. I'd planned to go to The HuB opening event at 5, see Michael Miller at The Reserve at 7, and go to the Black Diamond Burlesque show at The Gator Club at 8. So I watched a video of a radio talk Will Rogers gave in 1931 called "Bacon, Beans, and Limousines," and knew I had to fit the audition in as well. It's always fun to find a new hero, and it's even more fun to walk in his shoes for a spell.
It's been a few years since I've been in a show at The Players, although I've seen a number of them. When I returned to Sarasota from Los Angeles in 2004, I was the Assistant Stage Manager for West Side Story. A few years later, I got to act in an original play called Hay Day, which was written by Jenny Beres and won the best script award at The Players the previous summer. I was also an actor in the 1 minute play festival Got a Minute. So the Players and I have history.
The audition was in a small studio across from the black box. There was a younger guy there reading for the role of Will, and two women trying out for the part of his wife. The young guy had a really great voice, and considering I only heard the song selection 3 times, I guess I did a pretty good job proving I can pick up a melody and hold a note for several measures. I got a voicemail 2 hours later offering me the part, just about the time my friend Diana was painting a guitar and hat on my arm. Since they don't look like my guitar and hat, they must be Will's.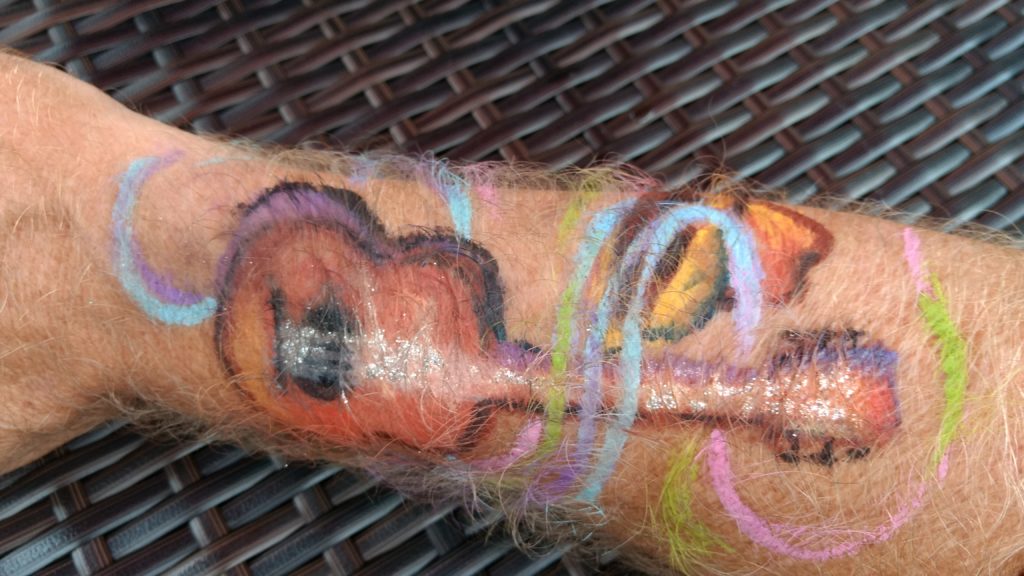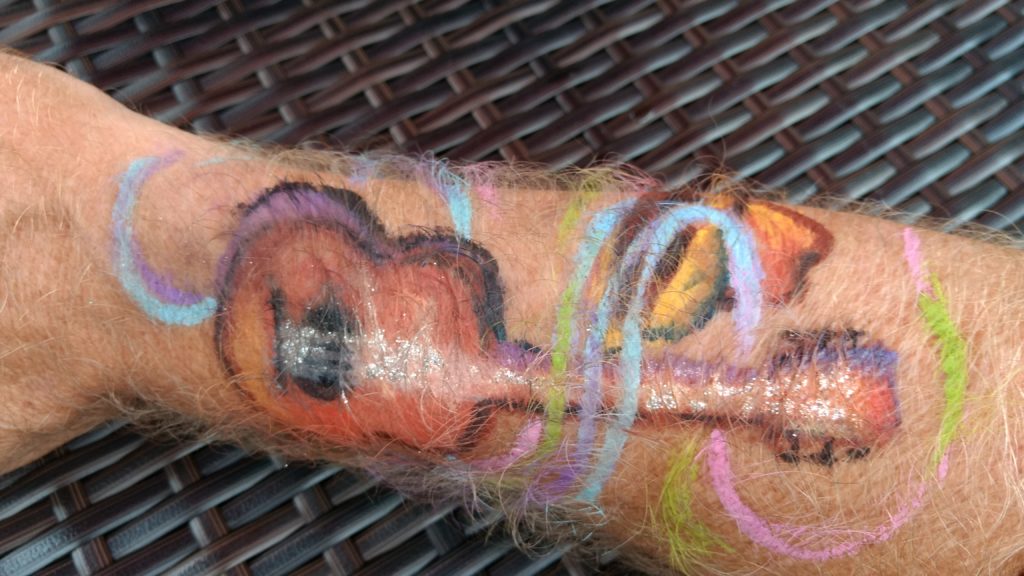 I've spent a good part of the day watching The Will Rogers Follies and other videos about the man on YouTube, and I'm really getting excited about this opportunity. It seems that I have a knack for playing icons. I was able to play Hank Williams at the Manatee Players (before they moved to their new building) in his bioplay, which gave me the impetus to learn how to yodel. I also got to play William Whitaker, Sarasota's first white settler, in No Real Than You Are, which went all the way to the Cannes Film Festival. And now, Will Rogers is going to teach me how to use a lasso.
Also, I have a personal connection with Keith Carradine, who played him on Broadway. The first week I was in Los Angeles, I got a job playing a cowboy on a TV pilot where I met Keith's niece, Kansas, who is the daughter of David Carradine. Kansas, David, and I went to see Keith play a set of his original songs at Genghis Khan, and I met him again at Kansas' birthday party. I don't remember exactly what we talked about, but he was a nice guy, and I'm honored to follow in his footsteps.
So this is going to be a lot of fun. I hope you come see The Will Rogers Follies when it opens, and come see The Cowboy Cabaret in the meantime. Playing downstairs the night before allowed me to perform it a little more the way it was intended. Wearing a wireless lavalier microphone, I was able to walk around through the restaurant, interacting with the audience more, like the cabaret performers I remember. Fortunately, Tyler, the owner, likes it too, and wants me to do more shows there. We're looking for some dates in August, and I'll try to get some more in September as well, but they're going to be minimal for the run at the Players in late September/early October.
I think I'm going to like 46.