I am glad to say that after 5 years in development, I have finally published my 10th book, a coloring book called A Group of Critters. It is based on a poem I wrote in 2018 about the practice of coming up with collective nouns to describe groups of certain animals known as "venery". Unfortunately, since the practice started in the 14th century, the word "venery" came to describe the pursuit of sexual pleasure in the 15th century, I thought it best to not continue using that word as the title of the poem, and I much prefer seeing the looks on people's faces when I tell them it's called "A Group of Critters".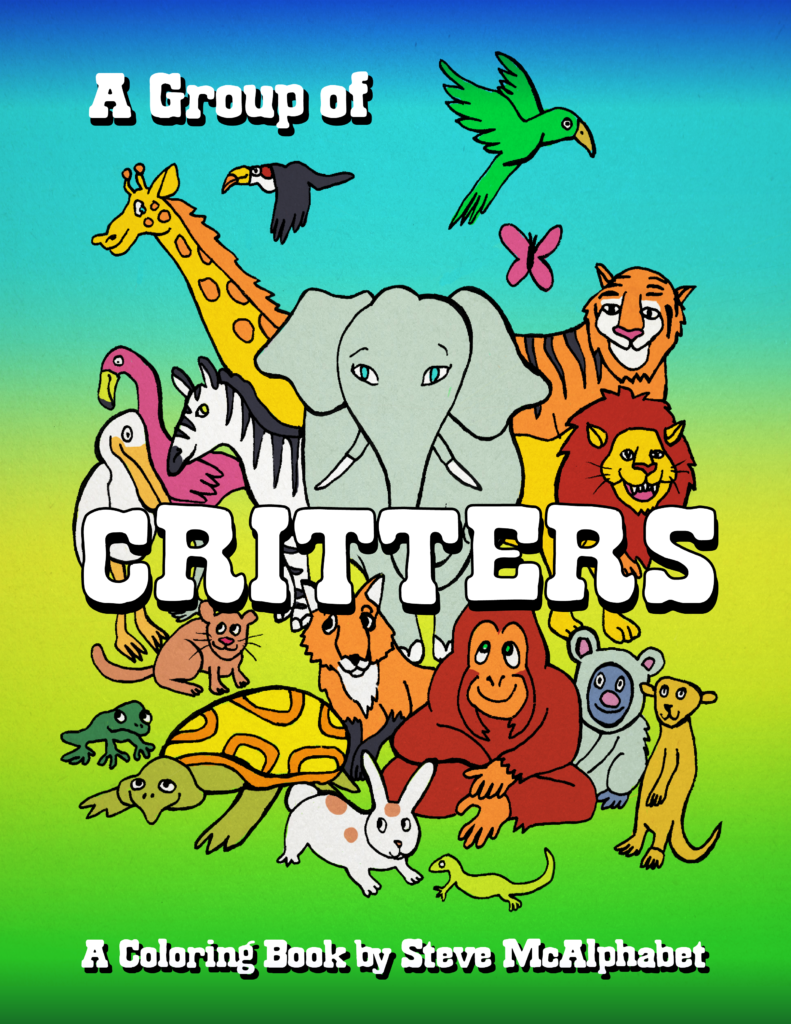 The exciting thing is that for the first time in my life, I have created a product that sells itself. Practically everyone loves animals, and learning about language is always mind expanding so I don't have to work very hard to convince people to buy them. My very first customer bought four of them!
My last big production was/is the documentary and live performance based on the legacy of Will Rogers. While a small percentage claim to know who Will Rogers was as the most well known and beloved celebrity of his time, asking people if they want to hear a load of political humor from a century ago is not always a very easy sell. Neither have the original songs I produced on my home computer or books of poetry, fiction, travel, or historical perspective. But everybody loves critters!
And since my year of financial abstinence a year ago when I challenged myself to live without money for a year, I have reintroduced the use of it in meager ways in my life as I have established how it may be used better through the cultivation of what I call ABC Squared Economics. Our current financial system is based on the trickle down scenario, where money is hoarded by a few psychopaths with a voracious hunger fueled by avarice and self hatred, and whatever trickles from the edges of their insatiable appetite for sucking as much life as they can from the rest of the universe goes to the rest of us. ABC Squared Economics is more concerned with using money, in whichever form it comes, as a means of continually flowing currency rather than as merely a store of wealth that the most insane among us have heretofore become so consumed with and blinded by.
To provide as much transparency as I can, I want to share my vision of how ABC Squared Economics can work to cultivate Artistry, Business, Citizenry, and Community through the marketing and sales of A Group of Critters. Currently, I am waiting for it to become available at the price of 19.99$ on Amazon and Lulu. Using Amazon's print-on-demand services, it costs me roughly 2.86$ per copy while purchasing my own prints from Lulu costs well over 5$ a copy. However, if I sell a book through the Lulu bookstore, they give me 11.75$ while Amazon gives me 9.84$, nearly two dollars less. So it serves me better to print through Amazon, but sell through Lulu, once that becomes available.
Because I have my own ISBN, (International Standard Book Number), I can also sell the book in bookstores and other retail locations. I basically sell it at a wholesale cost of 9.99$, giving them 10$ in revenue while I get about 6-7$ after my printing and shipping costs. I'll make my highest profit per book by selling directly to customers. My goal is to get copies in the gift shops of each of the 2500 zoos in the United States and every other English speaking country in the world.
With the first batch of 44 books I had printed, I've currently sold 6 to the gift shop at Discover Sarasota Tours for the wholesale price of 9.99$, and 6 at the Art Lab event at Art Ovation last night at 20$ each. At a profit of 7.10$ on wholesale sales and 17.10$ for individual sales (and the one woman who bought 4 of them), I've generated 145.20$ so far, about 20$ more than what I paid to print the whole run. Since this product provides a pretty nice profit margin, I am excited to use the rest of this experience of selling coloring books as an example of and experiment in ABC Squared Economics.
I've been using ABC Squared Economics as a working model for the last decade or so since I started using money again, and I've had pretty good results for the most part. But I haven't really generated enough income to make any significant impact on the world beyond the borders of Stevetopia. However, I think A Group Of Critters will allow me the opportunity to take it to the next level.
The building blocks of ABC Squared Economics are Artistry, Business, Citizenry, and Community. As a model of economic channeling, as profits are generated through sales of the product, they are directed toward the cultivation of each of these facets.
For this particular project, the Artistry is comprised of a poem written by Steve McAllister, 83 pieces drawn by Vicki Squires, 8 pieces created by Van Jazmin, and 4 pieces contributed by Anita Wexler. Business costs are comprised largely of marketing and promotions in order to inform customers on the existence of the product and fund other ventures to promote it. Citizenry is based in Sarasota, Florida, where the idea for the product was germinated, and will be focused primarily on protecting the homes of local critters. And Community includes critters all around the world and the organizations created to protect and serve them.
Here's how I plan to distribute the revenue.
For a wholesale sale of 9.99$ with a profit generation of 7.10$, 1.77$ goes to the artists with .88$ going to Steve, .74$ going to Vicki, .09$ to Van, and .04$ to Anita. For a direct sale with a profit of 17.10$, 8.55$ goes to Steve, 7.18$ going to Vicki, .77$ to Van, and .42$ to Anita. There will be similar breakdowns for profits generated through Amazon, Lulu, and Etsy once those markets are made available and profit margins established properly.
For this project, initially 25% of all profits will also be directed toward Business development. This will include marketing, public relations, and the production and development of Steve McAlphabet's Wandering Soul Road Show, where copies of the book can be sold directly to customers who see a screening of the four minute video called A Group of Critters, where the product generates the highest profit per sale.
Initially, 25% will also be directed toward the Citizenry of turning property in the City of Sarasota, Florida into a park designed to protect wildlife and promote environmental education. The property includes what is now called Riverside Park (although it features no park-like amenities) and the property across Whitaker Bayou at the corner of 32nd Street and Central Avenue. After the park is established and funded, revenue from this project will be directed as such: 25% to the City of Sarasota, 25% to the County of Sarasota, 25% to the State of Florida, and 25$ to the government of the United States of America.
Additionally, from these sales, 25% of all revenue (1.77$ for wholesale and 4.27$ to direct sales) will be directed toward charitable organizations designed to help the animal kingdom, including, but not limited to, the World Wildlife Fund and the Humane Society.
Copies of A Group of Critters will also be offered to charitable organizations with critter-related missions at the discounted price of 6.99$ per unit, which allows them to sell them at a profit of 13$ each. The profit from these sales is then channeled at 1.74$ toward each of the four facets of Artistry, Business, Citizenry, and Community and similarly dispersed.
So that's my intention. Percentages will most likely change over time as I see what's actually possible in this new paradigm, but the intention is to develop a healthy form of economic energy for all stakeholders in the venture. If you'd like to support the vision and help fund the experiment, purchase a copy of A Group of Critters on Lulu or get a few of them to give as gifts for all the animal lovers you know.