I was thrilled to debut my latest show, Wandering Soul, at the Common Grounds Meeting Hall in Northport last night. It's a really intimate listening room, and it felt great to have an audience actually listen to my songs, especially when four of my favorite people were sitting right in the front row. Andy Browne, who orchestrates the musical events at Common Grounds, was also kind enough to record the whole thing and put together a compilation video featuring clips from 9 of the 14 songs I played, and the audience really seemed to like them, along with the poems, even though I did forget the words to a few of them.
My drummer Ray and I had come to the open mic night with my housemate Don on Wednesday. Since the event airs live on the radio station that operates from there, each of the 18 performers got 9 minutes to play, and we were able to watch the clock countdown. I fit in Mystery, which is one of the first songs I ever wrote, and the first I was to write with my good friend Matt Corbin, and Every Little Thing, which included a harmonica solo by a player named Roman, coming in with about 19 seconds to spare.
Fortunately, that seemed to help sell a few more tickets.
Here's a little back story on each of the songs in the video:
If Only is a song I wrote while living in a tent and working at the Korbel winery in Guerneville, California back in 2002. A version of it is available on Amazon featuring the amazing fiddle work of Sara Stovall.
Feel was written a muse asked for a song that was "sad and soothing". I still haven't heard back from her telling me if she liked it or not.
Mystery is still one of my favorite songs to play, even though I did screw up the first line last night.
Long Crawl which I wrote in Los Angeles as I thought about what it was going to take to actually achieve my dreams. The percussive style of playing was based on a song Matt Corbin wrote called Father, but he does it with his knuckles, and that's a little too painful for me.
On the Road Again was the second song I ever wrote, about 6 years after Mystery, and it was the first to be written during The Rucksack Letters journey. I was a bit infatuated with Jack Kerouac by the time I'd hitchhiked to Colorado, and a woman I was seeing let me borrow her guitar to write it.
The Prodigal's Lament is based on the notion that I have often been referred to as the prodigal son, and I've played the part pretty well. Also written while living in a tent.
I'll Try was also written in Los Angeles as I was trying to figure out how I was supposed to fit in to this big old world as a person with Attention Deficit Disorder in a society with Attention Distraction Derangement.
Breathe was written of my muse Alex Jordan, when she asked for a song about her constant coughing because of the red tide perpetuated by toxins released by greedy and irresponsible corporations… or something like that.
The People That Made Me was written a few years ago as a celebration of all of the people who have contributed to my journey through life thus far, and for those who are currently building the future with me. A great version of it produced by Wayne Delair of Jumpdog Audio Productions is available on CD Baby, iTunes, and a bunch of other places where mp3s are sold.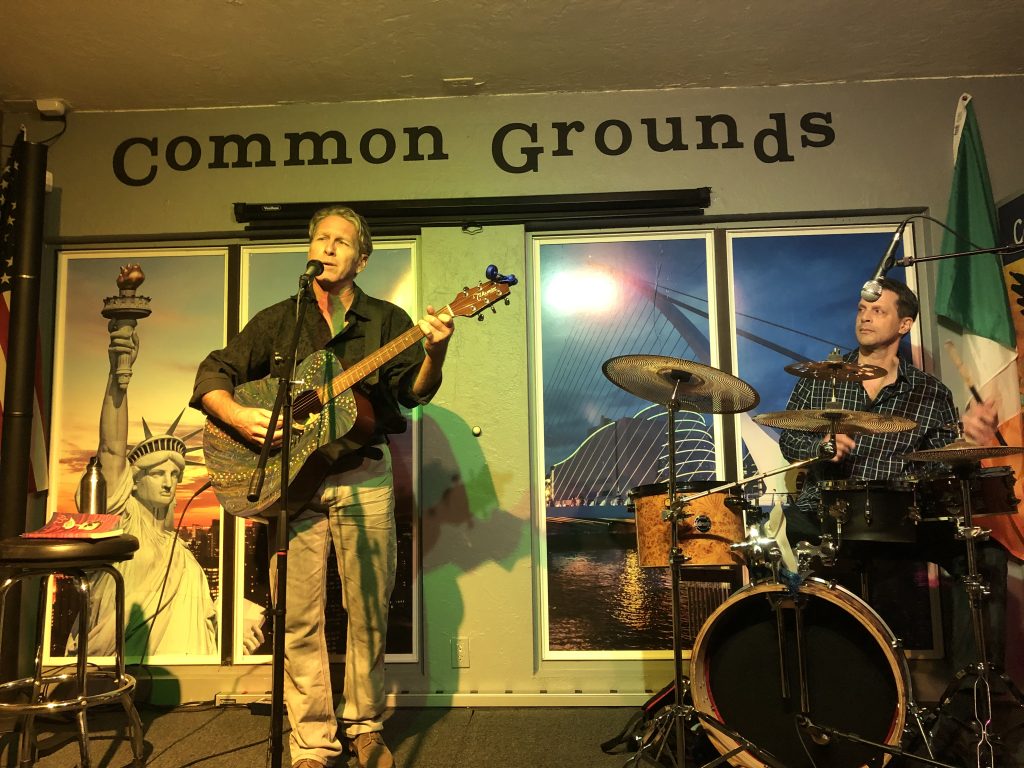 If you didn't get to see the show and want to, I'm trying to book more house parties than bars, although I am open to play them too. So if you want to organize an event in your home or clubhouse, I can do the Wandering Soul original showcase, The Cowboy Cabaret, or Will Rogers Revived… or perhaps a mix of all three. Don't hesitate to contact me if you'd like to consider the possibilities.