If the first night of the debate was The Elizabeth and Bernie Show, CNN's theme for the second night was, "Please Don't Let It Be Joe". At center stage, the frontrunner spent just over nineteen minutes explaining his role in all of Barack Obama's successes and the compromises he made to make even the failures more palatable as many of the other active politicians attempted to unseat him.
To his right, California Sen. Kamala Harris used her fourteen minutes to continue on her path of pointing out his shortcomings throughout his career with some assists from New Jersey Sen. Cory Booker, flanking him to the left, and Joe got a few other jabs from the other active politicians throughout the event. Overall, I think he did fine enough on his own to prove that he's not the man for the job merely by his continued subservience to the constraints of time and the authority of the moderators. Personally, I'd like a candidate who's more concerned with making his point than making good on time restraints.
Booker used the rest of his nine and a half minutes to prove his right to share the stage, as did Harris. And Harris also had to fend off a few attacks from Hawaii Rep. Tulsi Gabbard, which she quickly deflected by diverting her attention back to the frontrunner. Yet Gabbard also went on to demonstrate how her history as a U.S. veteran and native islander would help her in leading America down a path of less military violence and greater care for our part of the planet.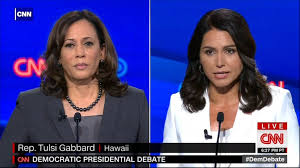 Andrew Yang had the least amount of time, using the majority of his less than four and a half minutes to expand on his pragmatic approach to fixing the economy by giving people just enough money to stay active in the game. Washington Gov. Jay Inslee's new glasses didn't necessarily make him look any smarter than he did at the last debate, but he's at least smart enough to make climate change a priority. New York Mayor Bill de Blasio used his five minutes to point out that there are a of things he didn't understand.
If I closed my eyes while Colorado Sen. Michael Bennet spoke, I couldn't help but hear John C. Reilly so I was giggling a little too much to really listen to what he actually had to say. New York Sen. Kirsten Gillibrand and Former HUD Secretary Julián Castro each took just over eight minutes, but did little to challenge any of the current frontrunners.
At the end of it all, I would have to agree with what many of the candidates pointed out through the debates, that any of them would make a better president than Donald J. Trump. But if ranked-choice voting were to somehow become an option in the American electoral system to replace the faltering electoral college, I think I would currently place my choices in the following order, based on what I'd actually like to see happen in the world:
Williamson
Warren
Sanders
Harris
Booker
Gabbard
Buttigieg
Yang
Castro
Inslee
Of course, I still like Williamson because she's the furthest out of the box and has the best chance to offer former Trump voters what they're actually looking for. But I think any of these folks would have the capacity to beat him.
Do you have a favorite yet?