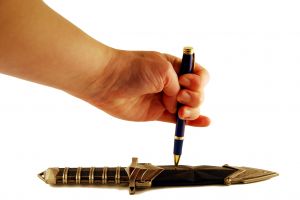 "Did you two send the press release?" I asked.
"We thought it would be a good way to get your attention," said Yewell.
"To get my attention?"
"We didn't think the fly by was quite enough," added Iman.
"That was you?"
They looked at one another and back at me. "Do you know anyone else who might have a similar vehicle?"
"No. I guess not." I scratched my head. "What do you want with me?"
"We want you to write the world," said Yewell.
"You want me to what?"
"Write the world," repeated Iman.
"Do you mean you want me to write to the world or about the world?"
Again, they looked at one another and back at me. "Yes," they said in unison.
"I don't understand."
"Didn't you read the press release?"
"Yeah, but it was about a book that I haven't written. I've never even heard of it."
"We're optimistic," said Iman.
"Wait a minute," I said, "you really want me to write a book about marketing? What makes you think I know anything about marketing?"
Yewell looked at me oddly. "You don't know what marketing is?"
"Well, yeah, I know what it is. It's like advertising and stuff."
They looked at one another, and then back to me. "Hmmm," Yewell said. "You do have a bit to learn."
This is an excerpt from How to Survive an Estralarian Mind Meld. Come back weekly for the next part or order your copy in ebook or paperback today!